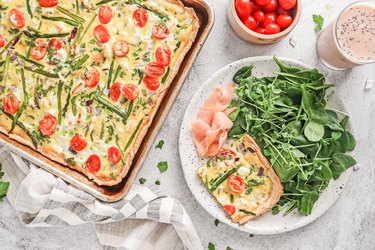 This easy sheet pan recipe is one of our go-to meals. For starters, it's packed with delicious ingredients that make us oh-so-excited for spring. We're talking crunchy asparagus, juicy tomatoes, and tasty tangy feta. This quiche can also be eaten for breakfast, lunch, or dinner ... or all of the above. It's especially perfect for feeding a hungry crowd — or meal prepping — which is always a plus in our books.
Since this quiche is baked in a sheet pan instead of a pie dish, it's much thinner than standard variations. However, you might prefer this version if you find traditional quiche to be too heavy. In our experience, sheet pan quiches also cook more evenly and quickly, as the egg filling isn't so thick.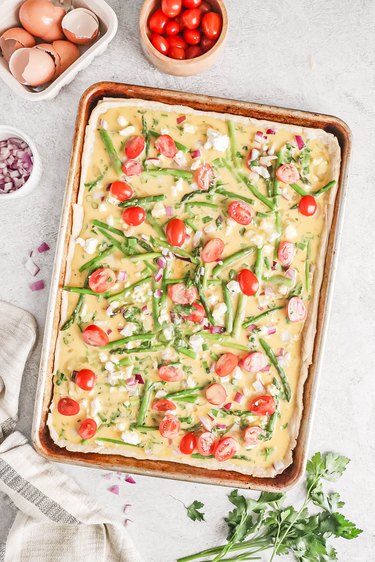 Depending on how you cut the slices, this recipe yields 12 servings. Read on for the full breakdown.
How to Make Spring Vegetable Sheet Pan Quiche
Things You'll Need
2 pie crusts (see note below)

8 to 10 eggs (see note below)

1/3 cup heavy cream

1 cup crumbled feta cheese

1/2 pound asparagus stalks, sliced and blanched

1 cup grape tomatoes, sliced in half lengthwise

1/2 small red onion, diced

3 to 5 scallions, sliced

1/2 teaspoon salt

1/4 teaspoon ground black pepper

1 teaspoon garlic powder

2 teaspoons Dijon mustard

Small bunch of parsley

All-purpose flour, for rolling
Tip
If you have a quarter sheet pan (about 9 inches by 13 inches), you'll need eight eggs. Two store-bought pie crusts will also be enough to create high edges around the perimeter of the quiche. However, if you only have a half sheet pan (about 13 inches by 18 inches), you'll need about 10 eggs. Additionally, two pie crusts will create flatter, less deep edges in a half sheet pan. This will still work — as you can see in our quiche — but if you want taller and deeper edges, you'll need some extra dough from a third store-bought crust. You can form it into ropes or strips, then press it along the perimeter of the quiche.
Step 1
Preheat the oven to 425 degrees Fahrenheit.
Combine the two pie crusts to form a ball. Lightly flour a clean, smooth surface and rolling pin. Roll the dough into a thin rectangle that's about the same size as your sheet pan.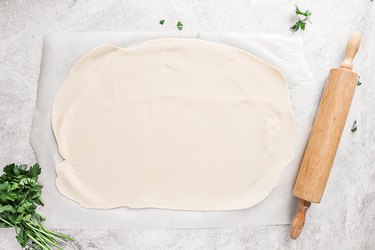 Step 2
For ease, you can line your sheet pan with parchment paper if you'd like. Then, place the dough on the sheet pan, pressing it firmly along the sides. Trim the dough as needed. (Again, if you're using a half sheet pan, you can use extra dough from a third pie crust to create higher edges.)
Line a sheet of parchment paper on top of the dough and add pie weights (you can also replace these with dried beans). Alternatively, you can spray a sheet of aluminum foil and press it onto the crust. This will help limit bubbling, but you can skip this step if you don't have the appropriate supplies.
Bake for eight to 10 minutes or until slightly golden brown.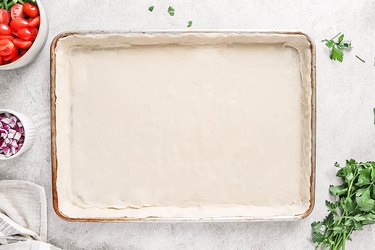 Step 3
Once the pie crust is partially baked, reduce the oven's temperature to 375 degrees Fahrenheit. Let the crust cool for 15 to 20 minutes.
Arrange the asparagus, tomatoes, onions, scallions, and feta cheese on the pie crust.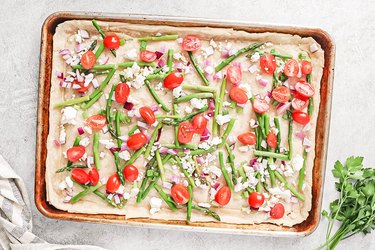 Step 4
Chop a few sprigs of fresh parsley. We used 1/3 cup, but you can use more or less if you'd like.
Step 5
In a large bowl, whisk the eggs, heavy cream, Dijon mustard, salt, black pepper, garlic powder, and fresh parsley.
Step 6
Carefully pour the egg filling onto the pie crust.
Step 7
Bake for 30 minutes, or until the pie crust is golden and the egg filling is set.
Let the quiche sit for a few minutes.
Slice and serve with leafy greens, smoked salmon, and extra parsley.