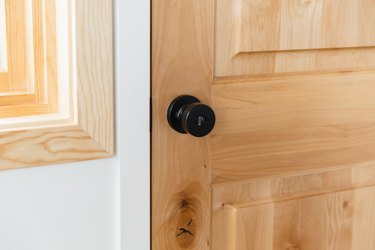 When it comes to cool closet features, we'd be happy with built-in organizers, like a dresser or shelves, but this home in California is taking walk-in closets to a whole new level.
Los Angeles–based real estate agent Jose Prats posted to their TikTok account @sellingla a tour of one of the craziest closets we've ever seen — and it has nothing to do with storage space. Lo and behold, there's a speakeasy in this closet.
In the video, Prats shows a pretty standard-looking closet. It's not even a true walk-in, but it does have a trap door that leads to a steep set of stairs entering into a dark space. As Prats walks around the room, it becomes clear that it's a brick-lined bar.
Now, is this a genuine 1920s-era speakeasy? Maybe, but as eagle-eyed TikTokers noticed, the lightbulbs are a pretty big giveaway that this space has been modernized sometime in the last fifty years or so.
"This was probably just a fruit cellar that someone turned into a man cave in the '60s. That paneling, the electric sconces, no way it's Prohibition era," wrote one commenter.
Whether it's an authentic Prohibition-era speakeasy or just a retro man cave, it's still a super cool find — and it can absolutely be restored to create an amazing home feature.
"1920s hiding alcohol, 2020s hiding Christmas presents and snacks from kids," joked one TikToker. The possibilities here are truly endless.