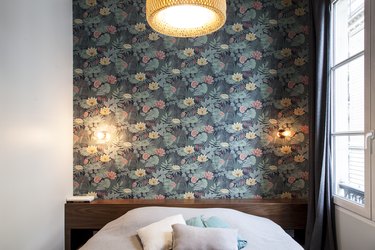 When a young professional couple wanted to open up their apartment in Paris's 9th arrondissement, they knew just who to call. Architecture firm Batiik Studio is known for its creative approach to small spaces, and at only 678-square-feet, the second-floor space needed some smart solutions. Founder Rebecca Benichou set out to redistribute and optimize the floor plan, as well as give the clients the open kitchen and dressing area they requested.
The firm painted the living room in a bright white and brought colorful accents and wallpaper into the smaller spaces, like the bedroom and powder room. Wood accents were used to warm up the apartment, from the kitchen to the dressing area. The finished project is spacious and modern — just what the couple wanted.
---
Elizabeth Stamp is a freelance writer in Los Angeles. Her work has appeared in Architectural Digest, Elle Decor, and CNN Style.