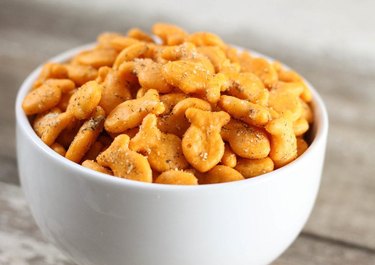 It's not every day that Goldfish comes out with a new flavor that makes us drool. Hey, they just handle the classics so well. However, the brand has teamed up with one of our favorite hot sauce brands, Frank's RedHot, to spice up the snack aisle in the new year.
If this flavor combo looks familiar, that's because the two partnered up last year to test out this hot and spicy mix for a limited time. Based on the success of the cheesy cracker, the brands have brought the seasoning back. According to the official post by Goldfish, the crunchy snack will only be available for a limited time this year, too.
Enhancing the flavor of the already-delicious cheddar Goldfish, Frank's RedHot adds a few classic hot sauce touches like aged cayenne peppers and notes of vinegar that will make it a challenge not to devour the whole bag in one sitting. While Goldfish is typically a snack we associate with children, you may want to keep this bag hidden from their innocent tastebuds.
You can snag a bag (or two, or three) for a limited time on the Goldfish website or you'll find them swimming into stores sometime this month. You better hurry though — this is hot stuff.