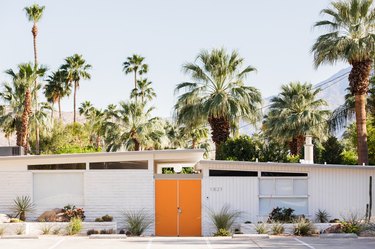 Arguably the most important features in any dream home are the windows since they offer ample natural light. The style (such as picture, transom, or skylight, just to name a few), placement, size, and shape can play a big role in the overall look and feel of your remodel and the amount of light you receive. One type of window, in particular, is clerestory. Ahead we'll explore everything homeowners need to know about this retro design feature, including how it's making a comeback.
What Are Clerestory Windows?
Clerestory windows (pronounced "clear-story") are located above eye level in order to allow more natural light into the space. They are typically placed right below the roofline at the top of the wall or sit above the roofline or overhang if part of the roof is elevated. No matter the placement, they are a classic design feature.
Where Did Clerestory Windows Originate?
Believe it or not, clerestory windows date all the way back to ancient Egypt. They were used to bring light into halls and temples that were made out of stone. Later, they became a fixture in Gothic churches and banquet halls to let natural light into large, enclosed spaces. The openings, or windows, would be located at the top of the columns, where the walls rose higher than other areas of the structure. Eventually, architect Frank Lloyd Wright popularized them in home design.
What are the Pros and Cons of Clerestory Windows?
Pros
‌Natural Light:‌ Clerestory windows provide another way to bring more natural light into your space. "They are a great way to carry light throughout a space while maintaining privacy. As closed floor plans become increasingly popular, clerestory windows can offer access to natural light, even when central rooms may be divided by walls and doors," says Sarah Barnard, WELL AP, LEED AP.
‌Ventilation:‌ If the clerestory windows can be opened, they will allow air to circulate throughout your space and also provide an escape for hot air that may be trapped as it rises.
‌Free Up Wall Space:‌ Since clerestory windows are located closer to the ceiling, they free up wall space at eye level for shelving, artwork, or lighting.
‌Aesthetics:‌ Clerestory windows will bring an elegant and unique look to your space.
Cons
‌Cost:‌ They are much more costly to install than typical windows because of how high they sit on the wall, plus they usually have to be customized. The price ranges from $800 to $1,400 on the low end and $2,500 to $4,000 on the high end.
‌Temperature Regulation: ‌ It's important to carefully consider the size of the windows and to select high-quality glass so you don't end up causing other issues. If the insulation isn't great, heat can escape through the windows in winter months, leading to additional heating costs and vice versa during the summer.
Clerestory Windows vs. Transom Windows
If you're wondering what the difference is between clerestory and transom windows, you're not alone. So let's break it down. Transom windows sit above doorways while clerestory windows are installed at or above the roofline. The purpose of transom windows is to let fresh air and light into a room when the door is closed. They were originally installed above the top beam of a door or window (called a transom beam) to let natural light into a space while maintaining an element of privacy.
Are Clerestory Windows Making a Comeback?
According to Tom Wall of Mitchell Wall Architecture and Design, clerestory windows never went away. "While stylistically they trend to the contemporary, the clerestory is one of the oldest design features," he says. "Modern design plays incredibly well with clerestory windows. One of the hallmarks of modernism is the variety of planes created in elevation. It is rare to see a modern building with only one level of roof. Plus, when you start to shift roof planes, then opportunities arise to bring more of the outside in by creating openings between the levels. Utilizing clerestory windows, in this case, is almost required."
Simple, streamlined window shapes will complement a more contemporary aesthetic, Barnard adds. And since clerestory windows are located closer to the ceiling, all of the attention can be focused on the interior elements.
12 Modern Examples of Clerestory Windows
1. Add a little extra light in the bathroom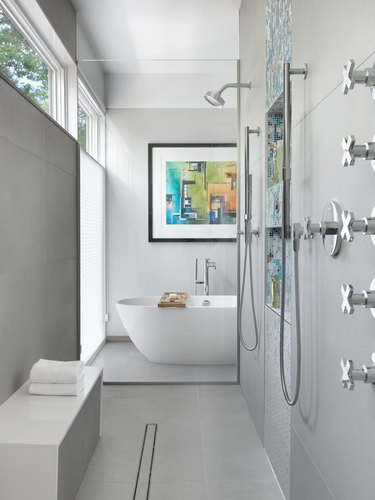 The clerestory windows in this bathroom by Mitchell Wall Architecture and Design provide the space with loads of natural light, yet maintain its privacy. The gray-tiled walls and floor keep the space feeling light and airy, while the art hanging on the wall and the trees visible from the windows provide a pop of color.
2. Create contrast with black window frames.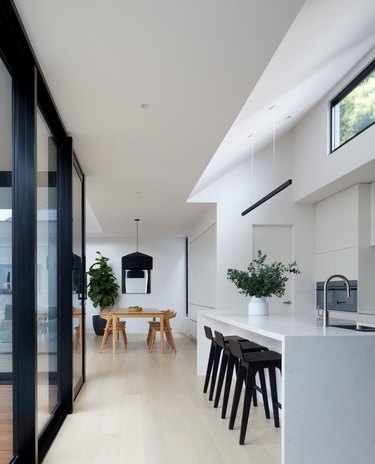 In this modern kitchen captured by photographer Tatjana Plitt, light floods in from every angle thanks to floor-to-ceiling glass doors and clerestory windows. The black window frames and door trim contribute to the overall black-and-white color scheme and provide dramatic contrast.
3. Complement your home's unique architectural design.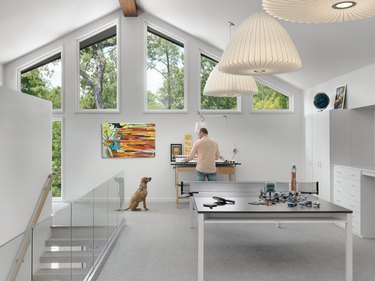 The clerestory windows in this contemporary home office by Mitchell Wall Architecture and Design are angled, following the lines of the roof. Not only does this design idea complement the architecture, but it also allows even more light into the space as well as a better view of the tree tops outside.
4. Lighten up a super-high ceiling.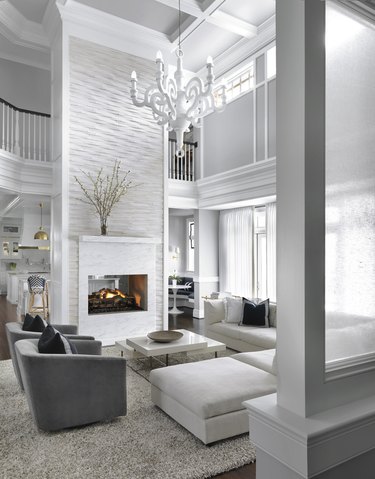 Although a little difficult to see, the clerestory windows near the coffered ceiling of this grand living room by Mitchell Wall Architecture and Design really help to keep the upper level from feeling dark. The light gray and white color scheme helps to reflect light throughout the room. The crackling fire in the double-sided fireplace adds just enough warmth without taking anything away from the scheme.
5. Shine a light on the dark space above the cabinets.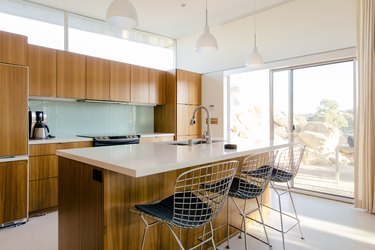 Follow the lead of this midcentury modern kitchen, and say goodbye to the dark space above your cabinets with the help of clerestory windows. The simple and clean design blends in seamlessly with the surrounding white walls. And plenty of natural light means this culinary space will always feel bright and airy.
6. Take them all the way around the room.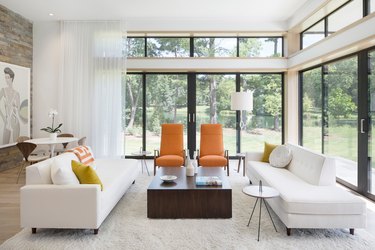 This living space by Mitchell Wall Architecture and Design is all about symmetry. Here, a row of windows near the ceiling echoes the glass doors below and repeats around the room. The expansive floor-to-ceiling windows blur the line between indoors and out and allow natural light to flood into the space. Sheer curtains offer privacy as well as the ability to control the amount of summer sun you get throughout the day.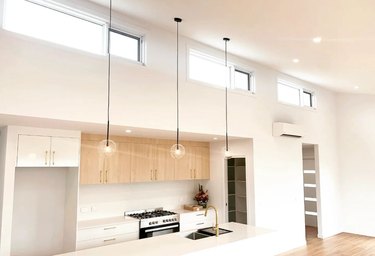 Functional clerestory windows are a nice touch in any room of the house, especially in bathrooms and kitchens where you might want some extra ventilation. This all-white cook space by Tassie Homes has the right idea.
8. Open up a small space.
Small spaces can feel cramped and claustrophobic in a hurry, but ample natural light can help combat that pesky problem. Enter clerestory windows like the ones in this home by Fabric Architecture. Since these apertures are near the ceiling they won't eat up valuable real estate on the walls. Plus the white paint will reflect the light, making the space feel a tad bit bigger.
9. Brighten up a bedroom.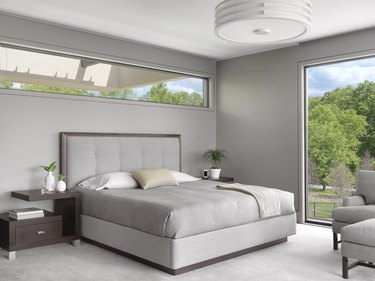 Similar to the bathroom, using clerestory windows in your bedroom — like the ones showcased in this setup from Mitchell Wall Architecture and Design — offer privacy without sacrificing natural light. A higher window also means that you can have fun with a taller headboard.
10. Illuminate a wood plank ceiling.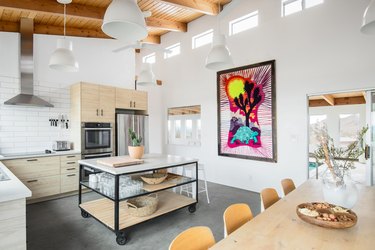 If you're lucky enough to have a gorgeous wood plank ceiling like this industrial kitchen, shine a light on it with the help of narrow windows. The natural glow will allow you to appreciate the beauty of the natural wood, while simultaneously ensuring that the culinary space is always well-lit.
11. Go a little darker with the finishes below.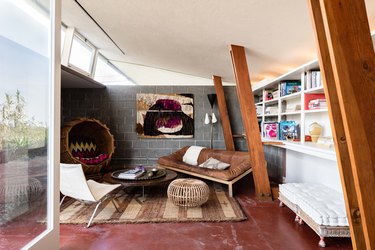 Since clerestory windows allow more natural light into a space, you can feel free to experiment with dark finishes below. For example, this cozy living room features a red concrete floor, a charcoal gray cinder block wall, and dark wood columns, yet it still feels bright and airy.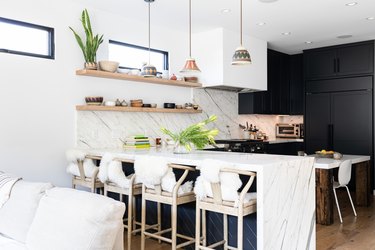 Even though "clerestory windows" sound fancy, they don't have to be. Keep the architectural feature simple and look to the rest of the interior space for direction. For example, in this kitchen, a pair of rectangular clerestory windows with black trim quietly adds to the modern scheme without distracting from it in any way.