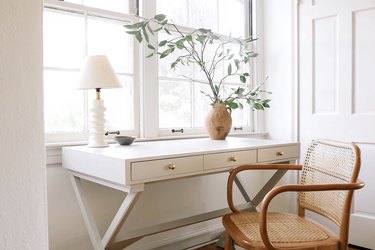 As you sift through home office ideas, you may find your eyes getting overwhelmed at times — specifically, by punchy, vibrant color palettes. And although those hues can look pretty amazing in a home office, those colors really should fit one's personality and tastes.
That's where neutral home office design ideas come in. You won't find any bright yellows, reds, or oranges in a neutral space. Instead, you'll spot shades of beige, white, cream, black, gray, and brown. In fact, these shades are so under-the-radar that you won't even see them on a color wheel.
Neutral palettes can be very kind to the eyes and are known for being quite calming in any space, which is why it makes so much sense for a workspace. Here are 10 neutral office spaces that have made the look an artform.
1. Incorporate well-loved wood finishes.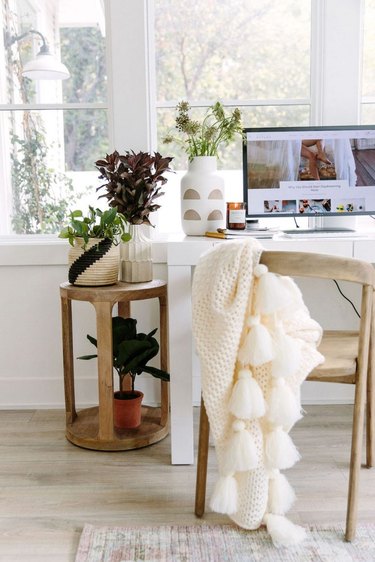 Intentionally worn, hand-hewn pieces of wood furniture always look gorgeous in any space, home offices included. Neutral by their very nature, they're guaranteed to fit in flawlessly, as proven by this office makeover from Camille Styles. The wood side table and desk chair look lovely and add warmth, while the accompanying greenery offers a subtle burst of color.
2. Invite in lots of natural light.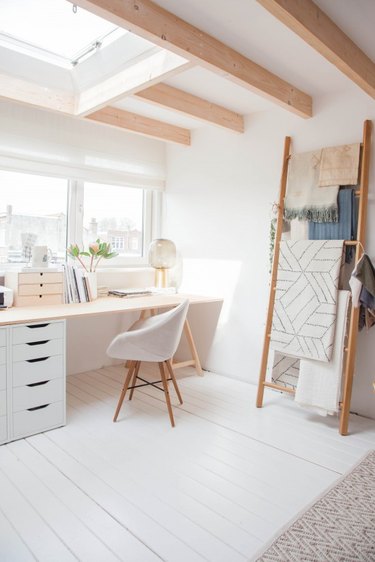 If you're dreaming of a stunning, neutral workspace, be sure to coax in all the natural light you can by lifting your blinds (or, if budget allows, installing additional windows or a skylight). This dreamy office styled by Holly and Hedda of Avenue Lifestyle demonstrates how impactful a light-filled setup can be.
3. Opt for minimalist decor.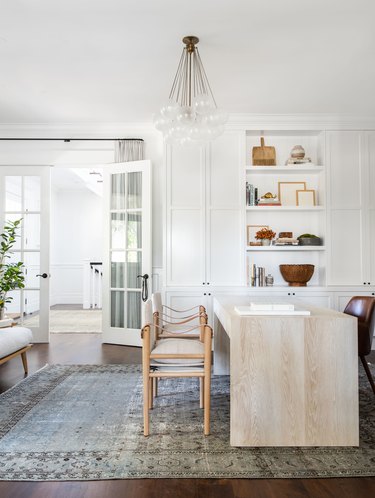 There's something about a neutral office that just calls for minimalist decor. And while you may have a ton of ideas and a plethora of objects to choose from, it can help to narrow down your options to only the pieces you really, truly love ​and​ will work with your tight color palette. Built-ins can be an ideal place to show off this curated collection, as witnessed in this sophisticated office designed by Amber of Amber Interiors.
4. Use white walls as a jumping-off point.
Here's the easiest possible way to create a neutral workspace: Start with a blank canvas. A white home office will make incorporating additional complementary hues, like shades of brown and black, a piece of cake. Let this industrial design by Emily Henderson, flaunting a black desk and worn leather office chair, show you how it's done.
5. Be choosy with your gallery wall.
In a small home office, you have to be even more selective with your decor, especially when it comes to creating a gallery wall. Pick artwork that you love completely and stick to a thoughtful, neutral color palette. The end result will look flawless as evidenced by this space from Erin of Hamilton Park Home.
6. Continue the neutral theme when styling your bookshelves.
To reinforce the neutral look of your home office even more, continue the look when styling your bookcase. By choosing to spotlight books with black and white covers, Anne Sage creates a design moment that's all about color harmony.
7. Hang a few floating shelves.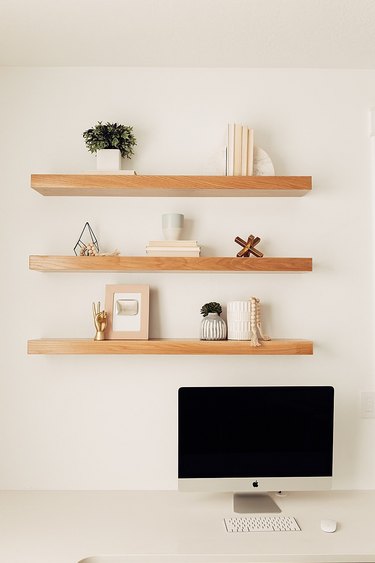 Floating shelves are a fab addition in any office, and they are the perfect way to incorporate decorative objects that show off your personality. For example, with a few sweet, pastel tchotchkes showcased on wood shelving, Abby of Twist Me Pretty has successfully beautified this small workstation.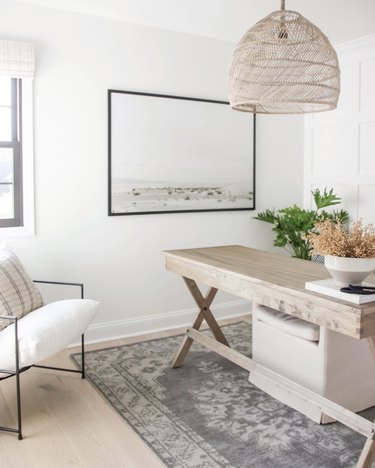 If you're worried that neutrals might not provide enough visual interest in your home office, look to texture to create intrigue. In this workspace, set up by Michelle of Blushing Boho Design, a woven pendant light, plush area rug, and dried florals do the trick.
9. Provide a pop with brass.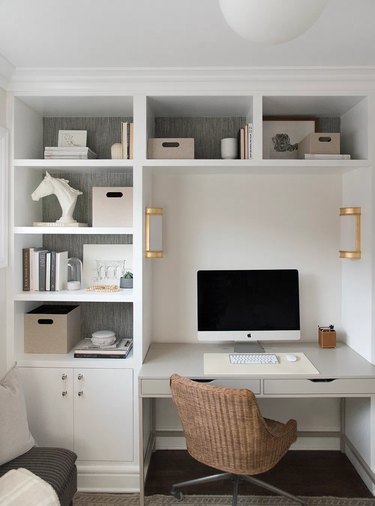 For an unexpected touch of glam, bring in bits of lustrous brass à la Sarah of Room for Tuesday. She flanked a desk surrounded by built-ins with a pair of wall sconces, taking this neutral home office design to the next level.
10. Create an eye-catching accent wall.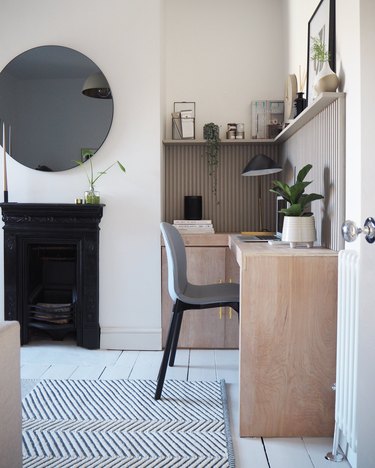 An on-trend accent wall is a surefire way to add visual appeal to an otherwise subtle design as proven by this modern home office belonging to Luke Arthur Wells. The greige paint color of the wall behind the desk fits into the overall palette, but the wood slat detail looks all-too cool and contemporary. Complete the look with a natural wood desk, stylish office decor, and wall art.
---
Shelby Deering is a lifestyle writer who contributes to national magazines and websites, including Country Living, Good Housekeeping, Well+Good, and more. When she's not writing, you'll find her shopping flea markets, hiking, and going for walks with her corgi.