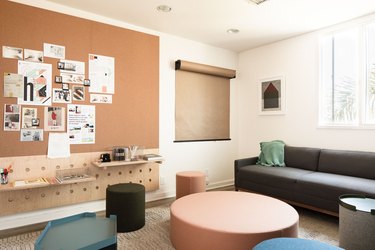 The pegboard is a utilitarian staple that has graced the walls of kitchens and garages for years. Usually constructed out of MDF or plywood, this practical organization idea is actually available in a variety of materials now. And not only that, it's also being implemented in a myriad of ways as a result of its flexibility and easy customization — you can increase and decrease shelves, hooks, and bins as needed. Pegboards have even taken on a more decorative bent thanks to a variety of colors and unconventional shapes.
The clever storage idea is perfect for small spaces because it allows you to add vertical storage without encroaching on scarce real estate. This makes it particularly appealing for use in home offices where square footage is often at a premium. Plus, it's easy to install and is an ingenious and affordable way to organize workstations, allowing you to hang everything from files to pens to staplers while maintaining a clutter-free desktop. Read on for eight ways to utilize a hardworking pegboard in your home office.
1. Embellish the surrounding area.
Create a cheery home office by embellishing the area around your personalized pegboard with artwork or wallhangings. Ann Marie of White House Black Shutters hung an assortment of DIY tissue flowers for an eye-catching display that adds weight to her light-filled space, as well as a punch of color. Clipboards, mason jars, and a slim folder system are practical storage solutions gracing the wall rack.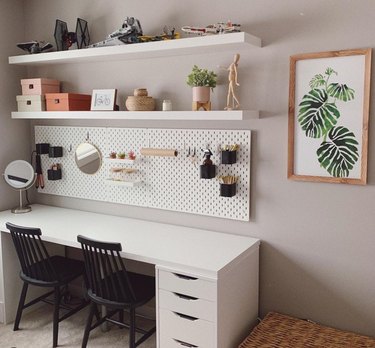 Streamline a work station and keep clutter at bay with an expansive pegboard system. This pared-down home office for two by @_sydneydawn makes the most of IKEA's Skådis organizer which features a fresh take on the traditional pegboard with slightly elongated holes. The shelving above showcases a curated selection of practical and whimsical office decor.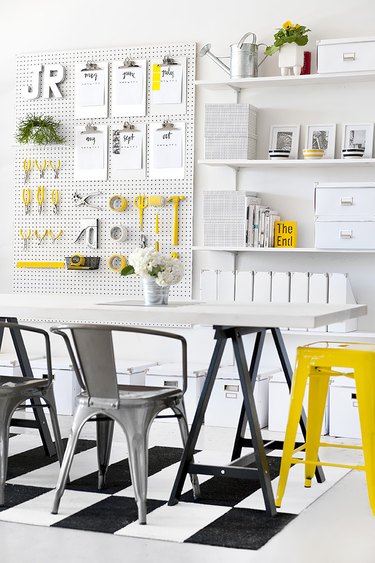 Color code office essentials and furniture for a cohesive space that isn't visually distracting. This home office by I Spy DIY uses a backdrop of crisp white paint including white storage bins and a white pegboard wall, and then layers pops of canary yellow to punctuate the monochrome workspace. Metal seating and a sawhorse table infuse the high-contrast space with an industrial vibe.
4. Consider oversize holes.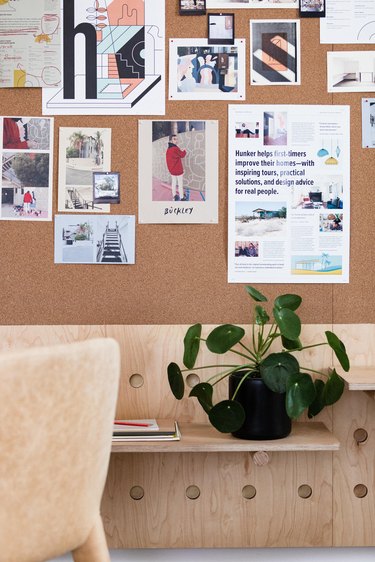 Most people are familiar with pegboards that come with standard 1/4" or 3/16" size holes, but that's not your only option. The oversize holes in this unadorned plywood version spotted at the Hunker House are a perfect marriage of form and function — wooden dowels support a scaled-down work surface while introducing a refreshing modern vibe that adds texture and depth. A cork pinboard is the prefect complement.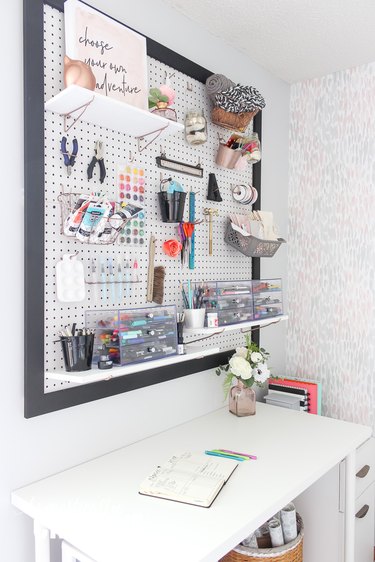 For an instant makeover, give your pegboard organization system a defining feature by adding a frame. Amanda of Domestically Creative selected a thick charcoal gray border which delivers contrast and grounds an all-white color scheme. An assortment of storage options including copper hooks, wire baskets, and lucite bins corral essential office supplies all within the confines of this framed pegboard.
6. Opt for an unusual shape.
Think outside the rectangular pegboard box and install something in an unexpected and eye-catching shape. This petite option spotted on Etsy flaunts a playful circular silhouette and provides just enough pegboard storage to stash every day essentials — stapler, scissors, writing utensils — within arms reach.
Punch up a humdrum home office with a color blocked pegboard organizer. This one features soothing blue and white along with natural wood for an easy to coordinate feature wall. And when styling, don't be afraid to showcase accessories like calming greenery and votive candles for a decidedly non-office feel.
8. Or, stick to one color.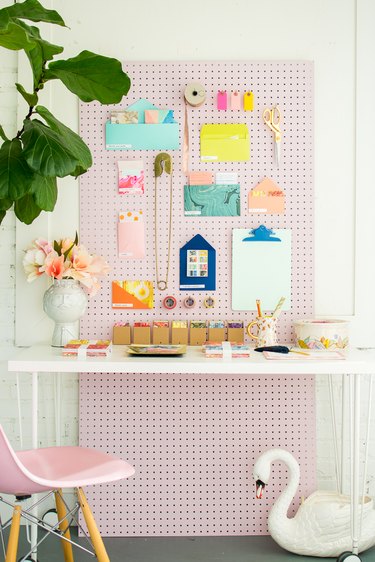 Brittany Jepsen of The House that Lars Built created a focal point behind her desk and added charm with a DIY pegboard idea. A quick coat of pink paint introduces a welcome pop of color — not to mention, it also does wonders for breaking the pegboard's association with garages and tools. Playful accessories like an oversize safety pin, gold scissors, and washi tape are equal parts practical and decorative.