Maximalism in interior design is in a league of its own. Characterized by a daring use of color, abundant layers, bold patterns, and an unapologetic sensibility, the polarizing look is certainly not for the faint of heart. While the celebrated aesthetic has roots in Hollywood Regency, the pattern and decoration art movement, and Memphis Design, these days, it's all about a contemporary take that can live happily with any style.
For those who may be quick to dismiss and tempted to stick with a whitewashed minimalist scheme, bear in mind that there's more to maximalism than grouping together an eclectic mix of colors and prints. In fact, it takes a lot of thought and intention to create a curated, maximalist space, especially when that space is a home office. But no need to worry — translating the concept to a workstation is easier than you might think. And if the 10 ideas ahead give any indication, it might just be the perfect solution to bringing a major dose of life to an otherwise lackluster setup.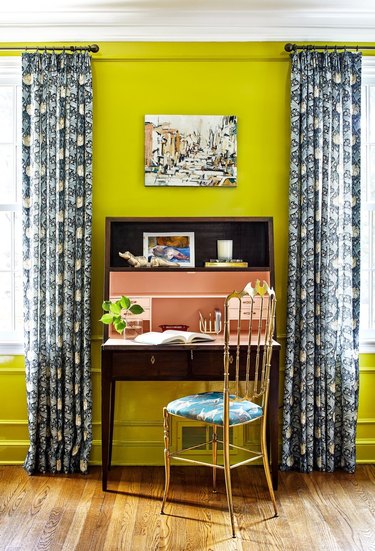 Patterns rule in this vibrant office nook from Zoe Feldman Design, which combines a striking chartreuse wall paint color with a complementary array of prints. The key lesson learned here is that even though the hues used throughout may be loud and punchy, the overall palette (chartreuse, shades of blue, brown, and blush) all remain consistent throughout. A glam office chair with a lustrous finish seals the deal and ties all of the elements together.
2. Show your shelves some love.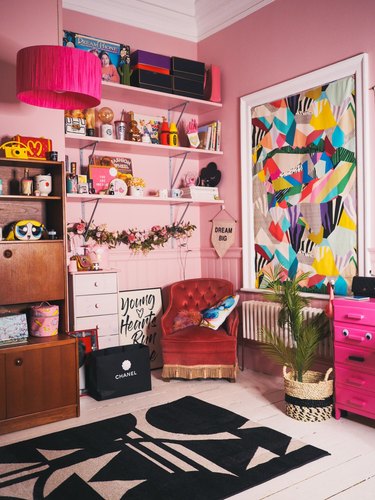 A maximalist space is never complete sans a statement-worthy shelfie (or three) à la this setup by Kirsty of Fashion for Lunch. Elevate your home office bookshelves with an assortment of framed art, quirky objects, colorful books, and vibrant plants for an over-the-top display that gives storage a whole new meaning.
3. Keep it simple yet impactful.
Dabito's home office reveal on Old Brand New is a prime example of contemporary maximalism that's equal parts bold and effortlessly cool. Although there is a diverse range of colors, textures, patterns, and prints used throughout, each manages to complement the other with so much ease and flair. By sticking to a palette of rich jewel tones, the designer invited a bold dose of interest to the space without risking an overwhelming finish.
4. Saturate with intention.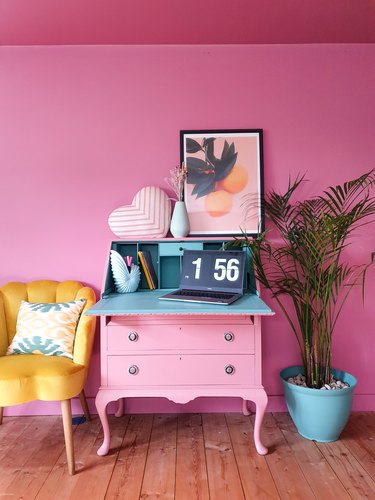 Vivid colors, such as bright yellow, hot pink, and baby blue were made for maximalist interiors and Charlotte Coleman is serving us all sorts of inspiration with this eye-catching office space. To get the look, start by selecting a hue that can sit center stage in a monochrome scheme. Dedicate that shade for the walls and the more prominent fixtures in the room, and then introduce your secondary colors with the help of home decor and textiles for a hyper-chromatic display.
5. Take the technicolor route.
Artist Anna Jacobs' home is a verifiable technicolor dream — which is a classic hallmark of maximalist style — and proof that no colors are off-limits. The quickest way to make a statement and design a visually vibrant workspace is to go all out. Anna's go-to tip? Work with what she calls a "harmonious structure" which entails decorating with anywhere from three to five hues that can be found next to each other on the color wheel. To complete the look, the artist adds a contrasting tint resulting in a dynamic finish.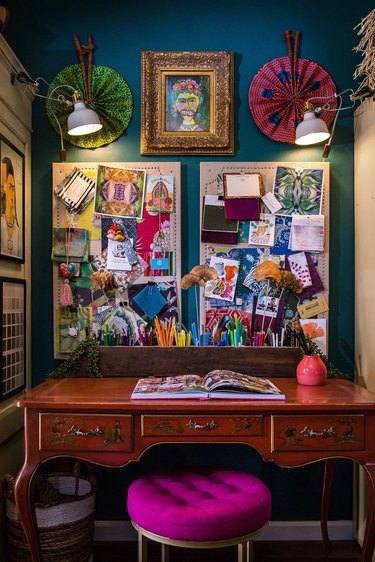 Unsure of how to approach a maximalist design scheme? Start by compiling a collection of items that inspire you — anything including fabric swatches, ribbons, paint chips, and even magazine clippings are fair game. Arrange them onto a cork board and allow it to serve as a guide to the colors and textures for your space. Once complete, keep it on display (it'll effortlessly complement the decor) just as Rachel Moriarty did here.
Maximalism isn't always necessarily about doubling down on color. In fact, you can still achieve the aesthetic by way of layered textiles and a mix of unique elements — think ceramics paired with iron and bronze or stone juxtaposed with intricate tapestries. Tamsin Johnson's stunning home office, which was spotted on Coco Kelley, beautifully illustrates the versatility of the concept.
Wall art is essential in interior design but when it comes to a maximalist home, it's pretty much a requirement. More is more in this situation and a seemingly never-ending gallery wall is exactly what we had in mind. Take a cue from Soozi Danson over at The Patterned Palace and outfit the wall behind your office desk with an eclectic array of prints, photographs, art, and decorative objects to create the ultimate maximalist vibe.
Boho style encapsulates many of the same themes and practices as maximalism, so if your idea of mixing prints entails a more organic approach then a plant-filled office space may be the one for you. Layer the room with lush textiles (rugs, window treatments, and upholstery all count!) and then load up on all the greenery you can manage. Opt for variegated plants that offer a natural hint of pattern.
10. Introduce color blocking.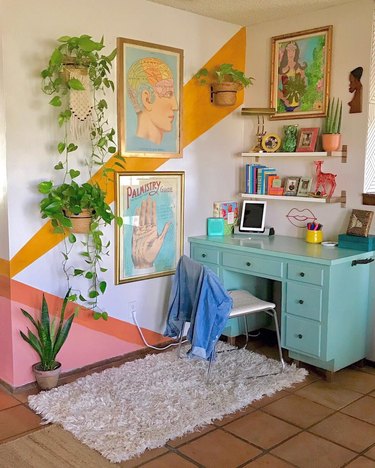 Skip the accent wall and, instead, go for a painted mural or a playful color block detail to invite a cheeky touch to your maximalist office design. Follow the lead of this energizing workspace designed by Lilly Ortiz and challenge yourself to a vibrant DIY. All you need are a few cans of paint and some painter's tape to achieve a Pinterest-worthy display.