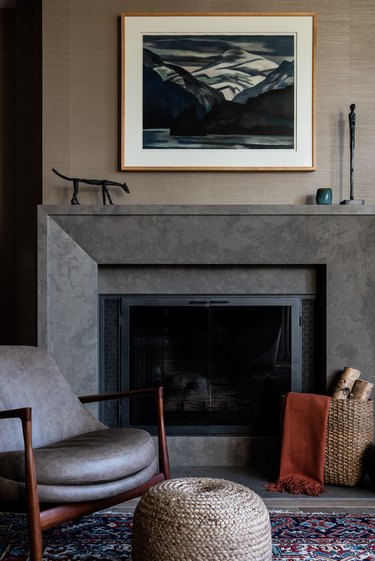 Chances are if you're lucky enough to have a fireplace, you probably have a fireplace mantel. Oh, the possibilities! Not only do these perches create the perfect frame, but they also act as a shelf to display your favorite design items, from holiday decor to family photos to prized art. While some have a more traditional vibe, we're currently enthralled with contemporary fireplace mantels. Here are eight ideas to help you get the look.
1. Install a concrete fireplace mantel.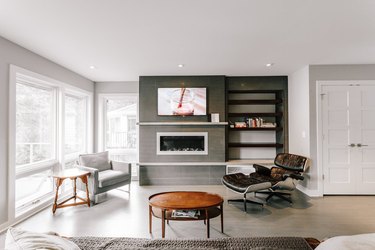 Anne McDonald Design used shades of gray-on-gray-on-gray (with a hint of brown) for this masculine living room. The fireplace mantel's sleek concrete design sets a slightly industrial tone and allows the standout decor (we see you Bauhaus-esque chair) to shine.
2. Go bold and beautiful with a colorful option.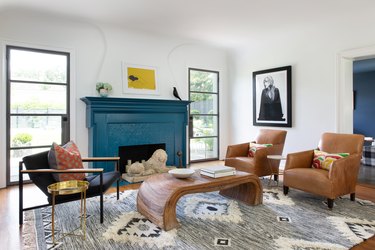 Where should we even begin with this living room by Mary Patton Design? Shall we start with the lion statue guarding the space or the turqouise fireplace with intricate tiling and a mod mantel? This contemporary room is a reminder that color is your friend and can be used in unexpected places, even on a fireplace.
3. Don't forget that sometimes bigger is better.
Why settle for a mantel not much longer than your fireplace when you can go wall-to-wall with it? This room-length feature has an artful arrangement of books and decor. Plus, it acts as the dividing line between the mauve wall color and the tile that extends from the fireplace to the floor. Black Lacquer Design never shies away from color, pattern, or a bold design choice.
When in doubt, keep it simple. Michelle Lisac Interior Design framed this white fireplace with a subtle mantel. If you go this route, leave the decor to the built-in shelves on either side of the fireplace and feature a favorite piece of art above.
5. Blur the lines between traditional and contemporary.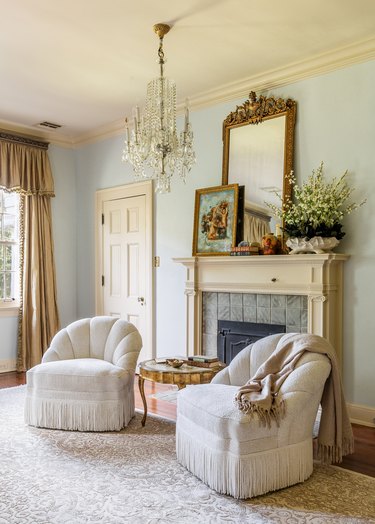 If you can't choose between a traditional and contemporary fireplace mantel, don't. While the decor of this Thomas Guy Interiors-designed bedroom veers traditional — with its dripping chandelier and ornate mirror — the fireplace has a contemporary vibe. Our favorite part of the room, though, is the dimension created by the layered art.
6. Just coat it in white.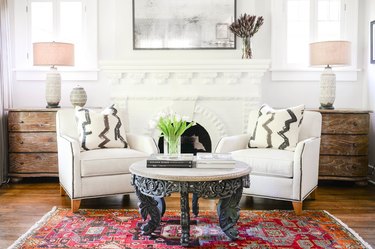 Brick fireplaces aren't always considered contemporary, but with a bit of white paint and a streamlined mantel, they can be incredibly fresh. Mel Bean Interiors designed this room, melding various design styles like traditional, rustic, and contemporary to finish the look. If you have a dated brick fireplace, consider this your sign to give it new life.
7. Amp up the moody vibes.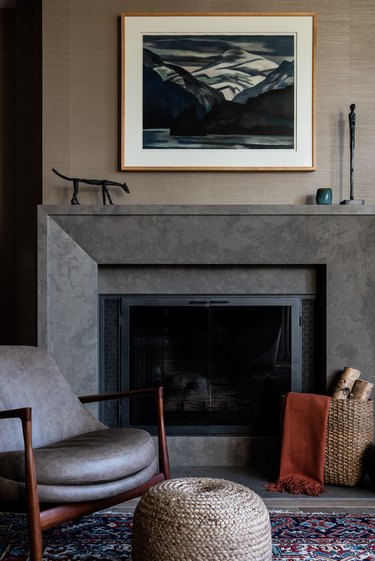 Picture it: You're leading yet another Zoom meeting, but your colleagues are distracted by your backdrop — a sophisticated limestone fireplace and mantel. This design by LeeAnn Baker will be the star in any home office. Most importantly, though, it'll keep you warm through the dreary days of winter.
8. Go for the ultimate contemporary look, and skip the mantel entirely.
For this refined living room, Prospect Refuge Studio surrounded a stone fireplace with grasscloth wallpaper — and no mantel. Instead, clean lines complement the bucolic art, while the juxtaposition of textures adds class and interest. Plus, leather armchairs, a low-key bar setup, and a roaring fire help create the ideal spot for a night-in.