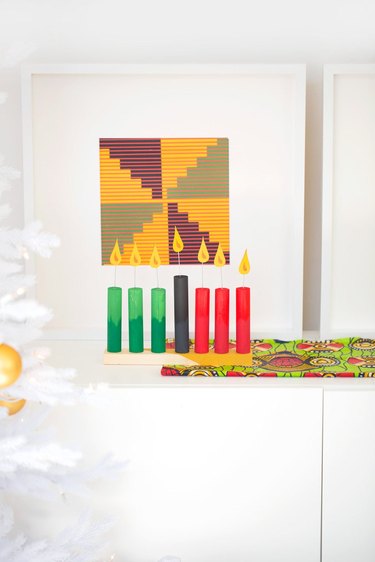 Chances are you've heard of Kwanzaa in passing or come across an image of a kinara ("candle holder" in Swahili) with multicolored candles, but never truly delved into the significance of it. Unlike its seasonal counterparts, this holiday stands apart as a secular one, created in 1966 by California State University professor Dr. Maulana Karenga, with the intention of bringing the African American community together.
The seven principles of Kwanzaa, or Nguzo Saba, are represented by the candles on the kinara, and on the first night, on December 26th, the centermost Umoja, or "unity" candle is lit. On its left you'll find three green tapers, which signify; Kujichagulia (self-determination), Ujamaa (cooperative economics), and Kuumba (creativity), while on the right are three red candles representing: Nia (purpose), Ujima (collective work and responsibility), and Imani (faith). They are lit center first then left to right, culminating with a feast called karamu on January 1st.
Now, when it comes to Kwanzaa decorations, the kinara may be a staple but the remaining elements are just as important. Curious for more? Here's everything you need for your own celebration.
To create a proper table setting for a Kwanzaa celebration, you'll need to begin with a mkeka, which is a symbolic placemat, to set the base. You can use either a straw mat or a woven one. On top, place ears of corn (preferably with the husk on), a unity cup (which denotes your family), and a bowl of fruit, vegetables, and nuts to represent mazao, or crops. Use footed bowls or woven baskets to contain the elements for an elevated display.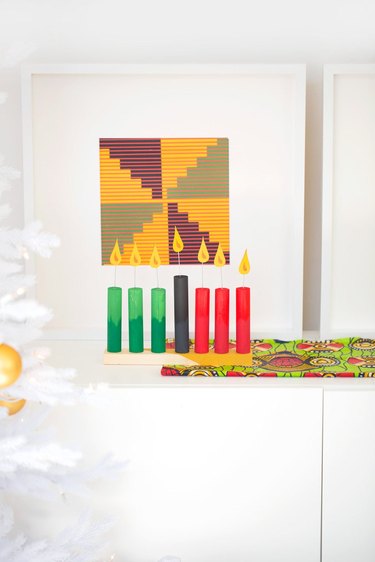 Damask Love's handmade kinara is a clever way to keep the spirit of Kwanzaa going long after the new year. Using a wooden block for the base and a series of painted dowels to represent the candles, the creative blogger devised this sculpture as a toddler-friendly alternative to one with live flames.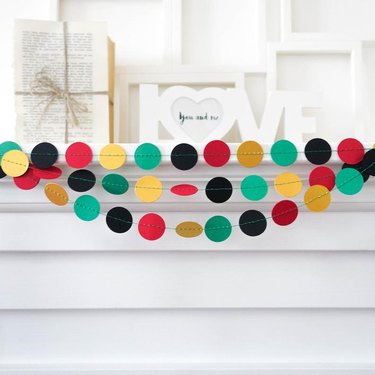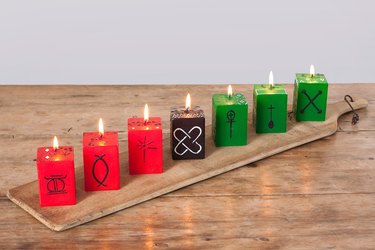 If you're up for a more modern-minimalist take on the kinara, this Kwanzaa candle cube collection from Thumbprint Artifacts is the way to go. Each of the individual blocks feature an imprint of its respective principle as well as delicately patterned detailing on top. Prop these on an elongated wood or slate cutting board for effect.