Having a real Christmas tree certainly is lovely, but let's get real — it's not always an option. Whether you have a super small apartment, cats that tend to treat your trees like living prey, or you just prefer not to deal with the upkeep of a tree, there are still ways to make your space feel festive for the holidays. Here, 13 alternative Christmas tree ideas that are both easy and beautiful:
1. Use your existing plant life — just dress it up a bit.
If you'd rather not shell out for a Christmas tree, take a look at the larger plants in your home. A fiddle leaf fig can easily play the part when dressed up in some twinkle lights and simple ornaments.
2. Create a "tree" collage.
A meaningful and minimalist approach, this is as easy as taping up letters, cards, or pretty pieces of paper in a triangle shape to channel a unique Christmas tree-like concept. To make your corner actually feel holiday-ish, add some greenery or candlelight.
3. Grab a branch and pom-pom it up.
Head outside and see if there are any small, spare branches around. Remove any excess leaves and then spray paint your branch white, silver, or gold. You can purchase a package of multi-color pom-poms for under $10 and then use a hot glue gun to attach the balls to the ends of branches. You could either throw the finished product in a corner or in an empty vase, or easily fashion a base with a piece of scrap wood.
4. Downsize with a miniature tree.
There's no shame in going artificial, especially when it's done right. These mini-trees from Anthropologie ( $48-$68 ) come with lights already attached.
5. Jump on the pineapple trend.
6. Create an ornament display with a ladder.
You can still achieve the grandeur of a tree with a ladder that displays your ornament collection. Place gifts at the bottom of this alternative Christmas tree, and voilà: Christmas miracle.
7. Hang a macrame "tree."
8. Use tree scraps to make a mini-arrangement.
This is as easy as spending a few dollars at your local tree supplier, or better yet, getting a friend to give you their trimmings.
9. Make a "tree" out of lights.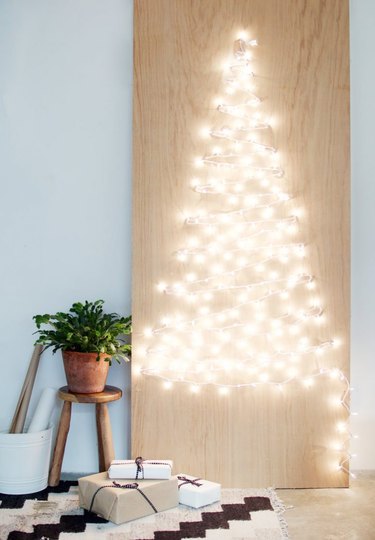 This DIY from A Pair & a Spare achieves the same warm and cozy glow that a tree would give you.
10. DIY a small wood dowel tree.
11. Style it up with some succulents.
12. Create a washi tape display.
Washi tape is ridiculously handy. This idea could be particularly useful if you're Airbnb-ing for the holidays and looking for a temporary alternative Christmas tree solution.
13. Make a geometric string display.
My Poppet's modern string DIY emulates the shape of a tree and also allows you to display holiday cards and trinkets.
---
Leonora Epstein is Hunker's Senior Director of Content. She has previously served as Executive Editor at HelloGiggles and as BuzzFeed's Deputy Editorial Director. She is the co-author of "X vs. Y: A Culture War, a Love Story" (Abrams, 2014). Feel free to reach out at leonora@hunker.com.
View Work