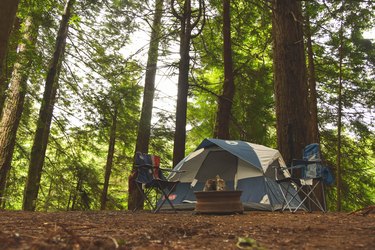 There is nothing better than taking a moment to lounge in the middle of nature. But no one wants a sore back. Thankfully, the right reclining camping chair — that's both comfortable and supportive — can make a big difference.
To help you find the chair of your dreams, we rounded up a list of our favorites. Now you can have the most relaxing camping trip possible.
With three adjustable backrest positions and padded backing, there's no way you won't feel at ease in this camping chair. Once you're done lounging, it can easily be folded and placed in a carrying case.
If you're looking to make an investment in a luxury camping chair, this one's a great pick. It has two modes: Freeform Mode allows you to sit upright and raise your legs, whereas Zero Gravity Mode lets your whole body recline in a weightless position.
Offering multiple positions for reclining, plus a backrest height that will support your head and neck, this Eureka chair is meant for serious relaxation.
Aside from having firm armrests for maximum support, this camping chair also has three reclining positions for overall comfort. Plus, it has a beverage holder, so you can take a sip, sit back, and relax.
For a simple, well-rated (almost four stars) recliner, you'll want to check out GCI Outdoor's low-rider, which reclines, folds, and comes with a handy-dandy beverage holder. When you're done using the chair, you can store it in the carrying case, complete with backpack straps.
---
Anna is a Los Angeles-based writer and editor who covers lifestyle and design content for Hunker. She's written for Apartment Therapy, the L.A. Times, Forge, and more. She previously worked as the lifestyle editor at HelloGiggles and deputy editor at So Yummy. Her email: anna.gragert@hunker.com
View Work