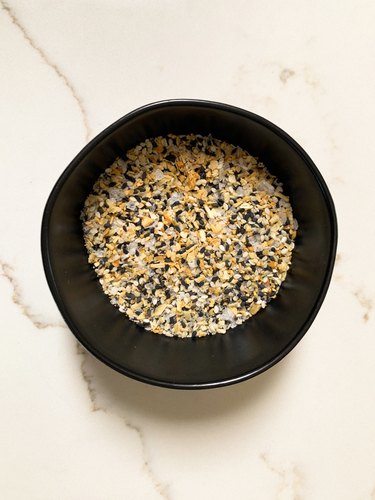 Once upon a time, I heard someone rave about Trader Joe's Everything but the Bagel Sesame Seasoning. (Basically, all the spices found on an everything bagel, but in a bottle.) I wanted in. Only problem was, I wanted it right away and didn't want to make a special trip to the store. (Also, truth be known, the TJ version is not officially gluten free, and we need things to be GF in my household.) So, I did what my ancestors before me have done: I rolled up my sleeves and made my own spice blend.
It's easy to make and goes with a variety of dishes_._ For a last-minute appetizer, I've rolled goat cheese in the seasoning and then served alongside crackers. My guests devoured it — and then later asked for the recipe. I've mixed it into scrambled eggs. My kids were delighted. I've sprinkled it on (gluten free) bagels. My husband was grateful. I've dusted it over half an avocado with a squeeze of lemon. I was in heaven. It's also delicious on pizzas, salads, roasted chicken, popcorn — the list goes on.
Here's a quick recipe to try ...
Copycat Trader Joe's Everything Bagel Seasoning
1 tablespoon white sesame seeds
1 tablespoon black sesame seeds
2 teaspoons flaked or coarse salt (I highly recommend you use flaked salt — it really makes a difference.)
1 (heaping) tablespoon dried minced garlic
1 (heaping) tablespoon dried minced onions
2 tablespoons poppy seeds
In a bowl, mix together all the ingredients and then store in an airtight container away from direct heat or light.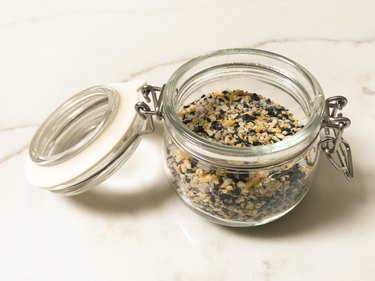 Yes, you may need to make a special trip to the store just to get some of these spices (like black sesame seeds). But, keep in mind that you'll likely make more batches of this seasoning because, trust me, it'll go fast. This way, you'll always have the right ingredients on hand to whip up on a moment's notice. It's simply divine.