There are lots of places I miss visiting during this time staying at home. When I wanted to treat myself, meet a friend, or do some reading/writing, I loved going to cafés. There's something lovely about enjoying a warm, delicious drink while people watching or enjoying your favorite book.
Determined to bring some of that magic into my apartment, I started looking around for tools I could use at home that wouldn't break the bank. I couldn't justify splurging on an espresso machine, especially since I only drink tea and what I ​really​ wanted was that foamy milk. (I also miss latte art, but my journey to make ​that​ at home is another story).
So I bought a milk frother instead. And it totally made me feel like I was at a café again. My trick is to warm up the milk in the microwave (or the stove) for a bit before using the frother. Then I get it nice and foamy before pouring into my hot tea.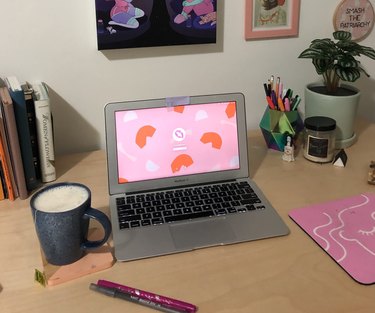 I use it to make matcha tea lattes; I love Golde's regular matcha and its turmeric variety. I also started the milk frother to make my nighttime chamomile tea even cozier. Since I'm dairy-free, I've found that Silk's soy milk is the frothiest so far (some non-dairy milks just won't get any height, no matter how hard you try). I also use it to help dissolve the matcha powder in hot water.
I've been using it since November and it just makes my morning tea that much more special. Until we meet again, cafés.