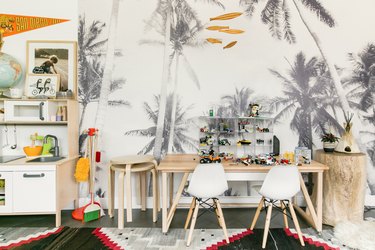 With this quarantine lagging on for months, irritability and claustrophobia are definitely peaking in most households. While we all love our families and usually take time with them for granted, everyone needs personal space and that has never been more apparent. Dreaming of taking a trip, hitting the road, or just in need of a change of scenery? While we can't actually go anywhere, these wallpapers will take you away from it all while staying put.
Missing the city? This mid-town office view will make you feel like you are working on top of the world while NYC hustles below.
The green foliage of this forest-scape will calm your space and make the hot work days of summer breezy.
Dream about childhood summers wading in the lake, squshing mud between your toes, while hoping to catch a fish.
Plan where your next passport stamp will be from while you dine.
Take a ride on your own Lost Highway even if that cool wind in your hair is just the living room A/C.
Really need to get away? Imagine floating in the silent expanse of the universe with the closest living thing millions of miles away.