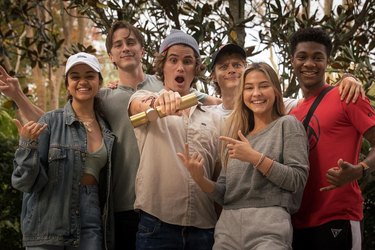 After more than a year of waiting to see what shenanigans the Pogues and the Kooks are getting themselves into this time, the newest season of ‌Outer Banks‌ has finally dropped on Netflix — and we couldn't be more excited. Besides complex characters and a plot that keeps viewers glued to their screens, the setting never fails to make us yearn for a trip to the dreamy Outer Banks, North Carolina. Lucky for us, the beach community is real and thriving as we speak, er, write.
The Outer Banks are clusters of islands right off the coast of North Carolina that separate the mainland from the Atlantic Ocean. The stunning open beaches, state parks, and shipwreck diving sites make it not only a popular place to live, but a hotspot vacation destination.
If you're looking to plan an excursion to the coast and are opting for a vacation home, the options are seemingly endless. An oceanfront one-bedroom guesthouse is going for $95 per night on Airbnb, while another one-bedroom beach shack with a private pool is set at a rate of $110 per night. So, if you're arranging a shorter stay with a smaller amount of people, Airbnb seems to be your best bet.
For longer trips with a larger group, you can book a beachfront house for 10 guests at around $2,245 per week or a 20-guest coastal mansion for just over $4,000 per week. Not too shabby if you split the cost 20 ways! You can browse hundreds of options nestled around these price points here.
Of course, there are always hotels, motels, and campgrounds available for whatever type of experience you're looking to have. Regardless, you'll be breathing in that salty ocean air, chowing down on some fresh seafood, and living just like John B. and his pals for the duration of your stay. What could be better?