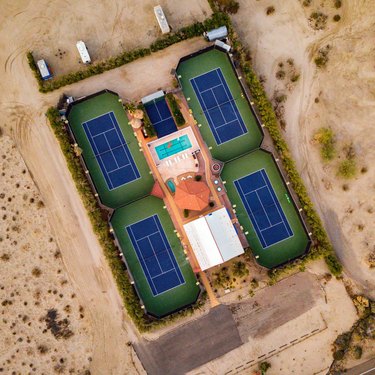 Who: Adil Dara and Leah Goren
Where: Borrego Springs, California
Style: Contemporary meets nostalgic
While the Anza-Borrego Desert State Park is California's largest state park, it's often eclipsed by nearby tourist destinations: Joshua Tree, Palm Springs, and the Salton Sea. This is what attracted artists Adil and Leah to purchase and restore a four-court tennis club in the town of Borrego Springs (pop: 3,500) — it's a little off the beaten path; a desert oasis for those in the know.
The couple first stumbled upon the property accidentally, on their way to explore the Salton Sea. One wrong turn led them through the badlands of the Anza-Borrego Desert on an endless drive with no cell reception. "A half hour later we spotted some signs of life on the horizon," says Adil. "The scenic desert drive transitioned into the main drag of a tiny town. Shops, nature centers, and art galleries dotted the mile-long stretch of road."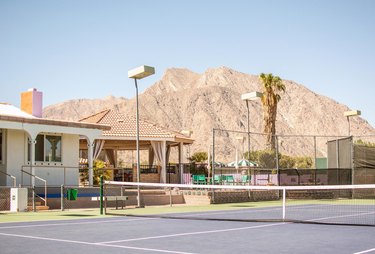 That's where they noticed a sign that read "ANZA-BORREGO TENNIS CENTER" and before heading back, they wandered in to check it out.
"Upon entering we felt a bit confused, it didn't look or feel like your typical tennis club. It was a gem with wild mountain views. Four tennis courts surrounded a pool that was situated in the center like an oasis. We walked around and explored the grounds noticing handmade details like the tiled benches," says Adil, so they popped into the clubhouse to find husband and wife owners getting ready for a St. Patrick's Day party. "We chatted a bit and learned that they were well into their 80s and have been running the place for nearly two decades."
On their way out, the couple jokingly mentioned the place was for sale and how it'd be nice to see a young couple take over. When Adil and Leah returned to New York, they couldn't stop thinking about its potential.
This chance encounter led to uprooting their lives in New York and heading to the desert. Luckily, as freelancers, they were able to work anywhere so they figured, why not? The two had previously collaborated on commercial design and illustration projects together, so The Courts felt like a natural evolution. "The intersection of our styles yields interesting results," Adil says.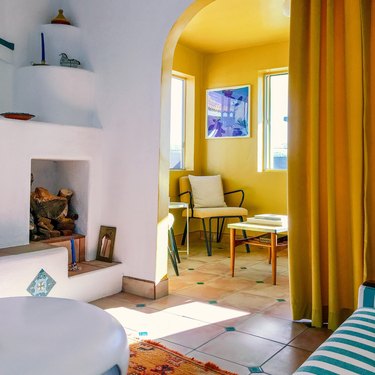 The result is an eclectic mix of Spanish-style contemporary clubhouse meets vintage summer camp.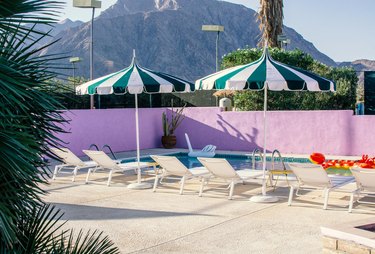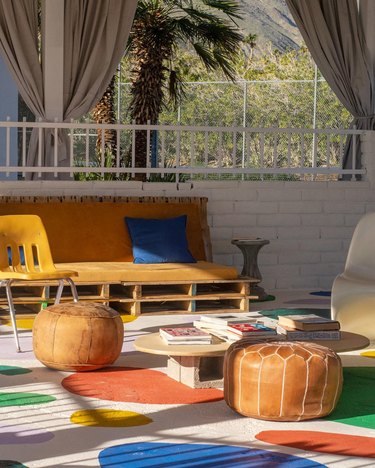 The pool, clubhouse, and courts sit on 5 acres of land with views of the San Ysidro Mountains.
Bright-blue campers are available for rent onsite. "For the last 40 years, tennis players have been traveling here to play on the courts and stay on the land in the back in tents, trailers, and RVs. We wanted to preserve this tradition, but do it in our own way," Leah says.
It was important to preserve the original architecture while updating it with more modern elements. To start, they repainted everything and cleared out two decades worth of clutter. "The space needed some TLC," Adil says.
When it came to design, as artists they relished the idea of creative freedom. "It's a rare opportunity where we can do what we want to do and not have to design to any particular category or aesthetic. We lean into the space's history and some of the things that have been here for years, while layering on things that we've had for years," he says. That includes a Moroccan rug that has been in Adil's family since he was born and a painting by Leah's mom.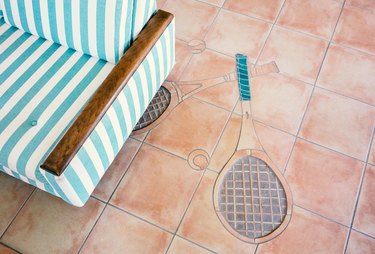 They made sure to keep elements from the previous owners like the tennis racket ceramic tiles, since they love the idea of preserving that history and charm.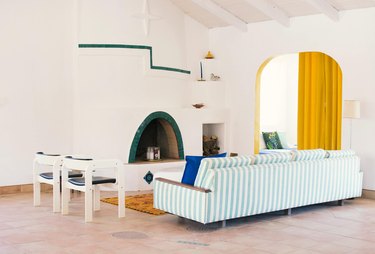 It was important for them to make tennis feel accessible, not intimidating. Adil grew up in a tennis family and played on public courts in Pennsylvania. "Growing up I learned tennis culture was synonymous with affluent society. I can only speak to my own experience as an immigrant growing up in suburban America playing on public tennis courts," Adil shares. He knew tennis clubs to be "large, clinical, stuffy or private members-only country clubs." In contrast, The Courts is a more friendly, lighthearted take to the sport.
The bright, pastel color palette was inspired by the movie The Florida Project and pop culture.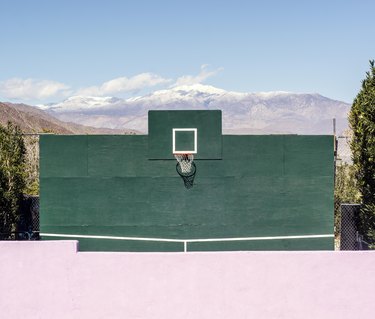 The greens and yellows made it feel like public park signage. They discovered that the purple pool wall matches the hue of the sunset. Leah never thought much about tennis before they met, but Adil says she's developed into quite the player. They both love tennis fashion and plan to curate some vintage tennis clothes for their shop. Recently, Adil designed some super bloom T-shirts to celebrate this year's epic super bloom.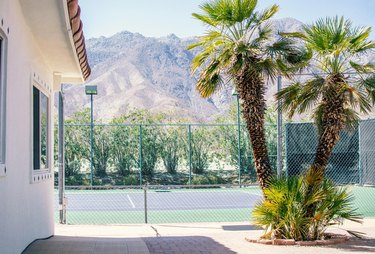 For the tennis novice and pro alike, The Courts at Borrego Springs offers something for everyone, like hiking and stargazing (the town is an International Dark Sky Community). It also features architectural relics. "The area was highly developed in the '50s and '60s by modernist architects and was a popular hangout for the Hollywood stars of that era," says Adil, but asserts that the main attraction is the desert.
For world-weary Angelenos in search of some solitude (and maybe a match or two), The Courts is a little paradise where nostalgia and good design converge, making something altogether new.