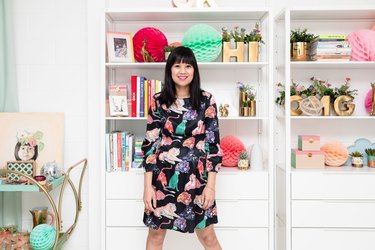 When we think color, we think celebration, and there's no one who embraces both more than Joy Cho of Oh Joy! The self-professed "color pusher" knows very well the potential that color and patterns have to transform our everyday lives. She reaches thousands through her blog and various product lines and collaborations, which range from dressing our furry sidekicks to healing every ouchie, and even a luggage line to accompany us around the globe in a whimsical fashion.
But, of course, the destination where we seek comfort most is at home, Cho's favorite canvas. Below she shares with us some of her evergreen design tips to create uplifting spaces that feel fresh and upbeat all year long. Which one will you try first?
If something doesn't exist that you like, try creating it yourself.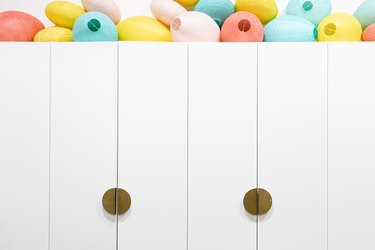 Any fan of Cho knows that the DIY spirit is integral to Oh Joy! If you can't find a lamp shade or hardware in a color you like, spray-paint it with a color you love. Likewise, repurpose or reimagine items for other uses. Cho's team took these paper lanterns from IKEA and spray-painted them in various colors as decor. Here, three layers were key to getting the colors to pop. Hunker tried that too for a fun twist on giant holiday ornaments. (For more DIYs, click here.)
Make your home cozy by indulging in textures.
When the days start getting colder and the nights longer, add furnishings made with materials that bring warmth. "Is it a knit blanket that you're adding in? Is it the texture of certain surfaces?" Think about texture and how to introduce it into your home "to get a little more cozy," suggests Cho, "because then you're also letting yourself be part of that coziness, which I think is good."
Be open to dried and faux plants — and mixing them with real ones.
"I'm super into faux or things that can stay dry. I don't necessarily like the look of plants that look obviously dry, but there are certain ones that [look great]." "Fake plants have gotten so much better than when I was a kid. My parents had a restaurant when I was young, so I was always shopping for plants for them because it was so hard to keep plants alive inside the restaurant," she recalls. "They were always so cheesy, but they're better now. I would do a bunch of faux, and then have some real ones mixed in." To add to your space, check out this gorgeous collection of faux greenery.
"Bring the sparkle."
"I think sometimes people overthink decorating. Like, 'Why should I do it if no one is going a see it? Or, 'Why if I'm not going to have people over?' But for me, it's for yourself too, to bring joy to your everyday," notes Cho. "It's nice to wake up when you're in the holiday season and you have your tree up and just see that sparkle. And that's something that people do, and even if you don't celebrate Christmas, how can you bring that sparkle? It can be as simple as changing up your pillows on your couch, your bedding on your bed, or other things." Gold accents are also a detail Cho embraces.
Welcome the unexpected.
Honeycombs are a favorite of Cho's team to add a fun element to any area. "We love honeycombs here because it's easy to just use them to fill the shelves. It tends to look like it's something left over from a party," she says. It creates the feeling that a party happened here, "but the party is still sort of happening. Things like that are inexpensive, unexpected, but bring a smile to your face. That's what I'm always into."
Mark the change of seasons with a refresh versus an overhaul.
"I think the seasons are nice for just a general refashion and for giving us an excuse to start over a bit. A new season is just like the mark of a new time, literally," says the designer. "I'm not necessarily going so trend-focused, or all of a sudden during fall my house has to feel completely autumnal. It is that time of year when I feel it's great to make little, easy changes." A decorative element such as a wreath on your door is a simple touch that can make the home feel more festive.
Experiment with paint colors — from the comfort of your home!
In Cho's studio, she uses a mix of brands — including Sherwin-Williams, Benjamin Moore, and Clare — with her choices primarily driven by color. In her new home, she's using the new online brand Clare because it offers what other companies don't: "You can get color swatches from them that are big sheets that you can stick on the walls," she shares. "I think it's really revolutionizing the way paints are sold. It's been exciting because it's a new palette to work with, their selection process is really nice with the big swatches." For someone with a busy schedule like Cho, the biggest plus is "you don't have to go to the store." They are shipped to you.
Don't be afraid of color ... "kids shouldn't have all the fun."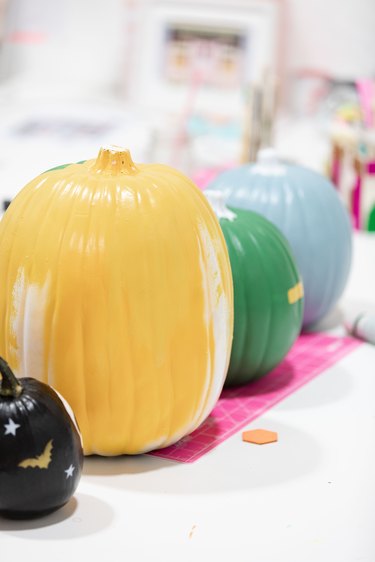 These are words to live by from Cho. "Oh Joy! is about color, it's about patterns. It is about bringing joy in those ways in everything we do whether in content or products. When you have a brand that's so color-focused, you have a lot of people who are afraid of color and think you can only use color in kids' spaces, so people tend to buy some of our products for their kids, because they themselves are still experimenting with it," says Cho. "So I'll always continue to push, be a color pusher, if you will, because I think a lot of women want to be wearing a lot more color. They want to, but they don't think they can, and I'm here to show you that you can, and that you should if you want to."