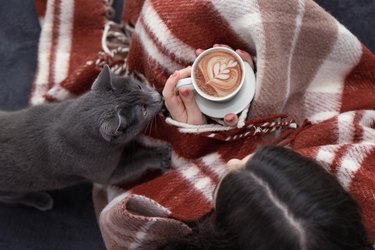 Just because your house is all furnished and ready to go does not mean it feels like a home. Your space should be your cozy and relaxing oasis from the world, after all. The good news is there are some extras that can provide that homey feel instantly. Check out our suggestions below.
1. Invest in an essential oil diffuser.
Not only will the diffuser help offset winter's dry air, but woodsy essential oils can make your home feel warm and cabin-like.
2. Lay down a cozy rug.
Hardwood floors look great, but can leave a space feeling cold. A fluffy rug is the perfect solution.
3. Light some candles.
Add atmosphere to your space and also infuse it with a festive scent like balsam and cedar.
4. Don't forget a fluffy throw blanket.
Whether draped over a chair, bed, or couch, you can't go wrong.
5. Make sure your pet is comfy, too.
Just seeing your pet cuddled up in a cozy bed is enough to make you feel more relaxed, too.
6. Hang some string lights.
String lights just have a way of giving any space a magical feel. And harsh lighting is a definite no-go when trying to achieve a cozy home.
7. Have fun with your seating.
An indoor hammock chair is great for just hangin' out, for example.
---
Carolin Lehmann is an Associate Editor at Hunker. She's a graduate of the Missouri School of Journalism and has previously written for HuffPost, Seventeen magazine, and a variety of local news outlets. As a studio apartment dweller, she's always on the lookout for new ways to decorate a rental on a budget.
View Work