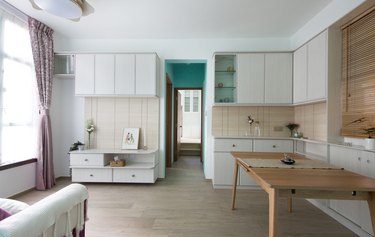 Architectural firm Sim-Plex has a knack for working with color (after all, they did design this rose-colored apartment inspired by Pretty in Pink). These same sensibilities went into renovating a modern Hong Kong apartment for a couple — the two-bedroom space is coated in a vibrant greenish-blue. Tiffany blue, to be exact: It was the couple's favorite color, one they felt could lend intimacy and romance to their home.
And achieving that romantic feeling with such a defining hue might be a challenge, but in this case, it was extra-tough: The home is only 482 square feet, and the couple had a small child. To bring a playful element without making the apartment feel like color explosion, Sim-Plex brought in neutral finishings, added curved details, and figured out how to maximize functionality without sacrificing character.
---
After interning at Dwell magazine in San Francisco, Kate began writing about arts, design and culture for other national publications. She is based in Los Angeles and San Francisco.