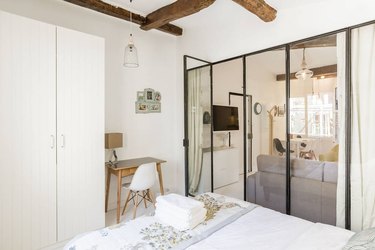 When Atelier Pelpell's Céline Pelcé and Géraud Pellottiero designed an apartment in the center of Paris, they didn't have a single occupant in mind. The space was being converted into a vacation rental that could accommodate two to six people, so their design needed to be functional and suit a wide variety of tastes. The apartment was on the top floor of a historic building near Centre Pompidou and measured just over 600-square-feet — not a lot to work with. The architects wanted to play up the charm of the small space and mix contemporary style with a bit of Parisian spirit.
They focused on increasing the amount of natural light in the long, narrow space by opening up the layout and adding glass walls to separate the bedrooms (the apartment has two) from the public areas. Everything was painted in a crisp white, except for the beams, and the architects relied on furnishings to bring in color and personality. The finished product is a stylish escape that lives up to its charming location.
---
Elizabeth Stamp is a freelance writer in Los Angeles. Her work has appeared in Architectural Digest, Elle Decor, and CNN Style.