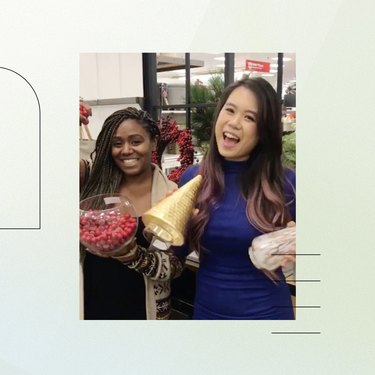 Welcome to $50 Challenge, where we arm two intrepid shoppers with $50 each and send them out to one of our favorite retailers.
What better way is there to get into the holiday spirit than to take our $50 Challenge back to Target for some festive finds? While there are certainly options out there for tacky holiday decor, Target isn't one of them. Armed with $50 each, we found some beautiful pieces perfect for a holiday soirée, or just for making our home feel more cozy and festive.
Contestant #1: Branché, Hunker's Social Media Specialist
I am a true hostess at heart. My mom raised me in a home where gathering together was the most important thing, and you can show love to the people you care about most in all the little details. Especially during the holidays, I love to bring together my close friends and family to eat, drink, and be merry — with simple and sweet decorative touches. This challenge, I was looking for something to spruce up my dining table with a subtle holiday vibe and "natural" elements. I think I hit the jackpot!
Branché's Picks: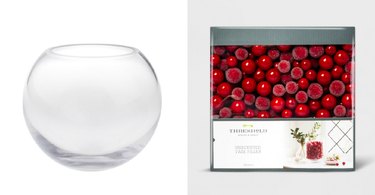 I love the idea of a cranberry centerpiece. It's understated, easy, and bright. I have a lot of wood in my home — especially in my dining and kitchen areas. I thought the pop of red paired with the modern glass vase would be ideal.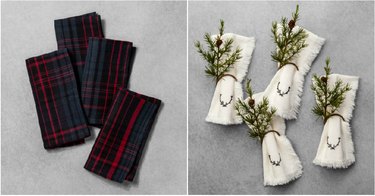 My dining room table and benches are all different variations of natural wood. I loved the idea of adding the plaid napkins — perfect for a winter aesthetic. I just had to add the greenery napkin rings for a final woodsy touch. My home feels like a bohemian oasis in the summer and a log cabin in the winter. I wouldn't have it any other way. What I love most is that the napkins and rings are a small touch that's inexpensive for giving a meal with friends a special upgrade.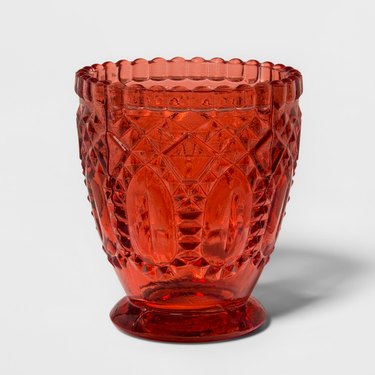 Target hack alert! I am obsessed with these red glass votive candle holders. But, because of their size, they're actually perfect to use as a wine glass! The red balances perfectly against the plaid and is a great callback to the berry centerpieces. I love bringing in Christmas color elements in a creative, understated way. These gorgeous glasses for only $2.99 each? I got four. Holiday cheers!
Branché's Tally
Round vase with berries, plaid napkins with greenery rings, four votive candle holders: $49.92
Contestant #2: Lacey, Hunker's Social Media Manager
While I love the holidays, I don't usually go overboard when decorating my home for the season. No, I'm not the Grinch type! I just have a very curious cat. So, I avoid the pretty poinsettias (toxic to pets) and put up my fake tree at my boyfriend's place instead of my own. This year, however, I'm planning a holiday-themed girls night, so I can't wait to find some cute, cozy, cat-friendly decor to spruce up my little place!
Lacey's Picks: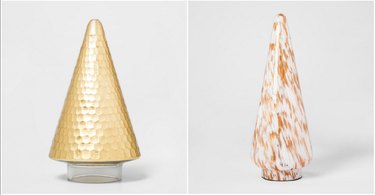 I love the shimmery and metallic colors of these tabletop figurines! Even though they're shaped like trees, they aren't super in-your-face about any specific holiday, so they feel inclusive and versatile. I could definitely have them out on my entryway table all the way through New Year's. Plus, they can (sorta) make up for me not being able to have my tree at my place.
How to instantly make any room feel more cozy: a faux fur throw. Not only will this look great draped over my dark brown couch, but it's also sooooo soft and perfect for snuggling. I'm never getting up off my couch ever again.
3. Glittery Tabletop Succulent (in-store only, $3)
I used up the majority of my budget on my first few picks, so I scoured the clearance section at the front of the store for something cheap, yet still cute. These glittery artificial succulents caught my eye! Not gonna lie, I maybe went over my budget slightly and had to borrow 97 cents from Branché and our producer Ariane (oops, thanks, you guys!). These are a great budget-friendly option that are just subtle enough for sprucing up a desk, or make great additions to a holiday-themed shelf. I'll be adding one to a mini tablescape on my coffee table.
Lacey's Tally
Decorative tree figurines, faux fur throw blankets, and glittery tabletop succulent: $50.97