As a Jew, until I met my husband, I never celebrated Christmas. My parents never really decorated my childhood home during Hanukkah and the holidays either, so I had many years of missing out on quote-unquote traditional festiveness. Nowadays, December is truly one of my favorite things, especially because, over time, I've figured out so many easy ways to make my home feel extra special for the holidays — all on the cheap!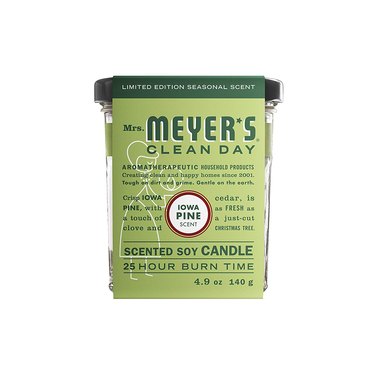 We buy this pine-scented candle every. single. year. We've tried "fancier" ones that have cost obscene amounts of money, but, honestly, Mrs. Meyer's $10 version offers a clean, pine-y fragrance that doesn't feel offensive.
Living in L.A., I've never even tried to imagine life with a real fireplace (it would be nice!), so during the holidays, we like to come home and put on one of Netflix's "crackling fireplace" videos (ASMR!), or, a personal favorite, Lil Bub's magical yule log video on YouTube, which our cat, Pumpkin, loves.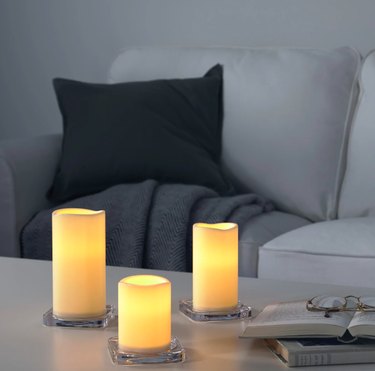 Candles are obviously a big theme here, and I love IKEA's LED candles because they really do flicker and feel like real candles. Plus, they've got this really fun timer mechanism, so they'll automatically turn on at a certain time. It's so lovely to walk into a house with "lit" candles. (Just beware: These require AAA batteries to operate, and if you keep them on the timer setting, you'll need to replace the batteries within a week or so.)
4. A Bottle of Something Fancy
My husband and I are bourbon people, but most of the year, if we're drinking it at home, we opt for something standard: Bulleit from Trader Joe's. But during the holidays, we like to go to our local fancy liquor store and bring in something more interesting to savor, like Freeland (an all-female, Portland-based distillery). If you don't drink, you could give Seedlip, a non-alcoholic spirit, a try. Looking for something a bit lower in alcohol content? Check out Haus.
I love taking advantage of the extra-cheap clementines that come into season right at the holidays. I place them in bowls in the living room and dining room for looks and for snacking — the orange-y aroma is also so nice.
What is it about doing a puzzle in the winter that just feels so cozy? It's a nice excuse to just stay in and keep the evenings lazy. This year, I'm looking at this 1,000-piece puzzle based on the Met's famous unicorn tapestry.
7. Free or Almost-Free Pine Branches
Each year when we get our tree, there's usually a pile of trimmed branches up for grabs. Using a little snowflake-decorated wire, I like to fashion them into a garland to hang over a doorway.