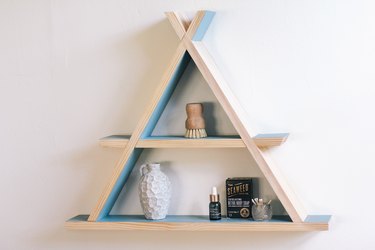 Bring your A-game to organization with a #shelfie that packs major style and function. Part storage, part display piece, it's perfect for showing off all the tiny things that make you smile — or for keeping those prized products you use daily within arm's reach. Featuring playful lines and a peek of color, we especially love it for small spaces that might need more storage, like a bathroom. But it would shape up the walls in any room of your home, such as a nursery or entryway, with equal parts fun and whimsy. (Oh, and if you own an actual A-frame home, this is a must, don't you think?)
Things You'll Need
1-inch-by-4-inch wood board


Ruler


Miter saw


Wood glue


Painter's tape

1 1/4-inch finish nails

Hammer or nail gun

Medium-grit sandpaper

Paint & paintbrush (optional)

Clear protective topcoat (optional)
Step 1
Have your hardware store cut the 1-inch-by-4-inch wood board into eight smaller boards with the following lengths:
1 board: 24 inches

1 board: 19 ¼

inches

1 board: 18 ½

inches

1 board: 10 ¼ inches


4 boards: 3 inches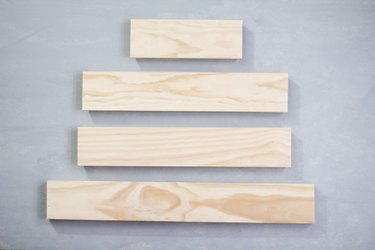 Step 2
On each of the four 3-inch boards, use a miter saw to cut a 30-degree angle on each end. Be sure after you cut the angle on the first end of the board that you rotate it clockwise 180 degrees — with the same side facing up — to cut the other end. (In other words, don't flip the board over.) This will ensure the 30-degree angles are facing opposite directions.
Also cut a 30-degree angle on both ends of the 10 ¼-inch, 18 ½-inch, and 19 ¼-inch boards. Leave the ends of the 24-inch board straight, as this will serve as the bottom of the shelf.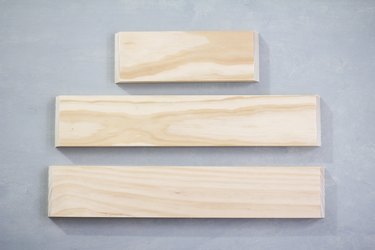 Step 3
To assemble, place the 24-inch board horizontally with its one-inch side facing up to serve as the bottom of the shelf. Place the 19 ¼-inch and 18 ½-inch boards diagonally on top of it until their tops meet to form a triangle. There should be two-and-a-quarter inches of empty space on each side of the triangle.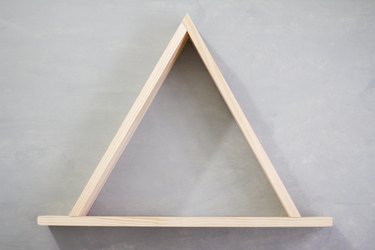 Now place the 10 ¼-inch board horizontally in the center of the triangle.
Lastly, place two of the 3-inch boards at the top of the triangle so that they form a V, and place the remaining two 3-inch boards on each side of the 10 ¼-inch board to extend the middle shelf on each side.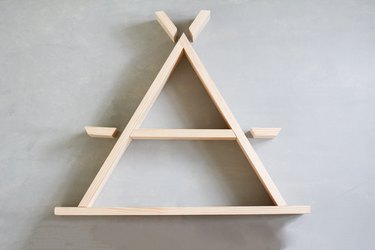 Step 4
Glue all of the boards together using wood glue.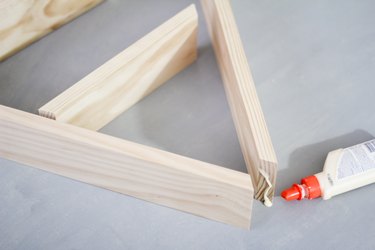 Use painter's tape to hold them together until the glue dries.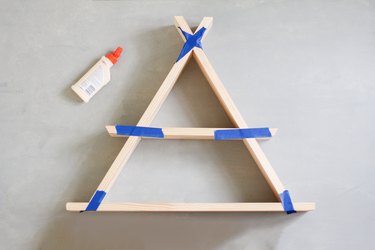 Step 5
Once the glue is dry, remove the tape and nail the boards together with a hammer and nails, or a nail gun.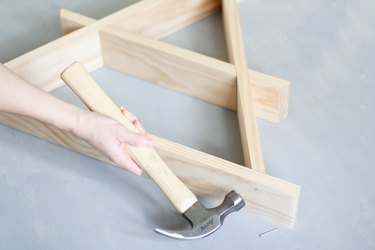 Step 6
Use a medium-grit sandpaper to sand any rough edges or splinters.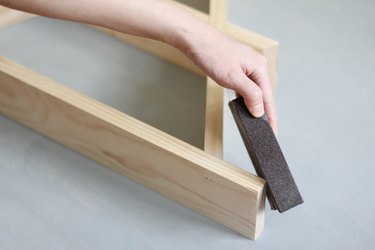 Step 7
This is optional, but I opted to paint the inside portion of the shelf to add a bit of color and contrast. I painted two coats using this slate gray color, allowing adequate drying time between coats.
TIP: Once the paint is dry, you can paint a layer of clear topcoat over it to protect the paint. Or, you can topcoat the bare wood even if you opt not to paint the shelf.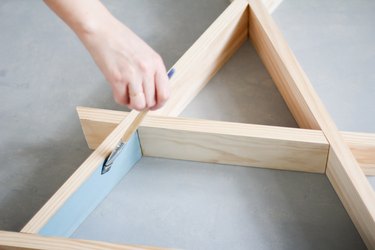 Now you have a cool A-frame shelf to display your favorite wares and collectibles. Simply hang a nail on the wall and rest the point of the triangle on top.