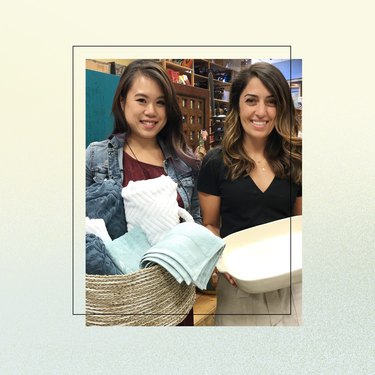 Welcome to $50 Challenge, where we arm two intrepid shoppers with $50 each and send them out to one of our favorite retailers.
We could not be more excited to be taking this edition of the $50 Challenge to the always surprising, always evolving World Market! If you have ever stepped foot inside one, you can understand the immediate appeal. From beautiful hand crafted unique finds to everyday essentials with personality, it's impossible not to go crazy and end up with an overflowing cart (or two). We armed two of Hunker's social media mavens with $50 each and asked them to select three items. Check out what they found.
Contestant #1: Garineh, Hunker's Senior Manager, Social Media
World Market is what I imagine heaven looks like. Well, a home goods store in heaven. There is never a time I've walked in and not spent 30 minutes gushing over candles and kitchenware. Lucky for me, I am a bargain shopper, so this challenge felt right up my alley.
Garineh's Picks: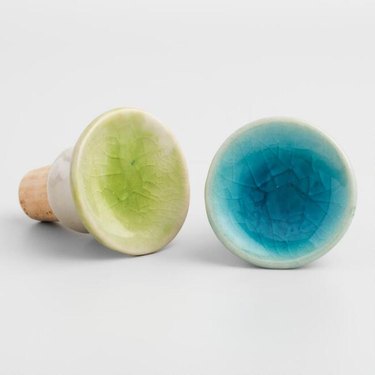 I'll be the first admit that I am a lightweight. It really doesn't take more than a glass of wine to get my head a little fuzzy and feeling fine. So if I do open a bottle of wine at home, chances are there will be leftovers (cue gasp!). These beautiful wine stoppers are the perfect size and provide just enough decor to make me want to whip them out to use. I chose one color for whites and one for reds, but if I'm being totally honest, I just couldn't decide between them.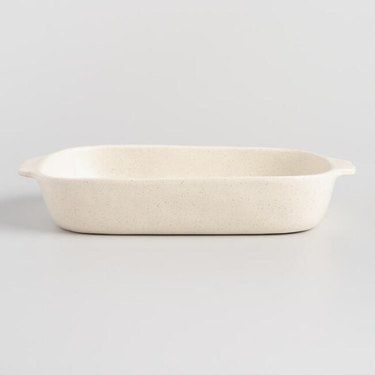 Whether I've had a long day at work or have an entire Sunday at home, I often find myself unwinding by perusing through recipes on Pinterest or flipping through a cookbook. There is something about the coming together of ingredients to create something so enjoyably delicious that just reinvigorates me. So when I saw this beautiful ceramic baking dish, I immediately pictured the different entrées I would create in it — from make-ahead meals like casseroles to party-ready dinners like enchiladas. It was so clear to me that it belonged in my kitchen, that I picked it up and placed it in my cart without even looking at the price tag. The great news? It still fell in budget!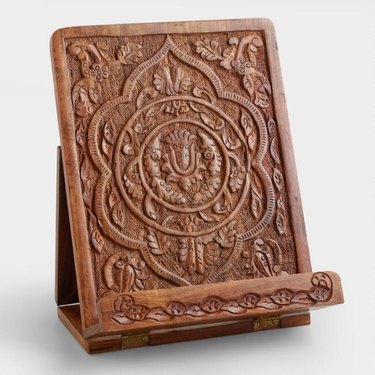 Like I said, I spend a lot of time looking through recipes. As soon as I saw this tablet stand for the kitchen, I realized just how much simpler my life would be. Often I have to make extra room on the limited surface I have in my small kitchen for a clunky tablet containing that week's new recipe-to-try. Not only would this save space, but also … have you seen it? It's gorgeous! I could always leave a book on display, or not! Its hand-carved details are decor enough.
Garineh's Tally
Wine stopper, ceramic baking dish, tablet stand: $48.97
Contestant #2: Lacey, Hunker's Social Media Manager
I don't think I've ever once walked into a World Market and walked out empty handed. Not sure if that's a fault or a skill, but for this challenge, I'm going with the latter. Limiting my picks to only these items truly felt like an impossible feat — there are just so many fun, quirky, chic items to discover around every corner!
Lacey's Picks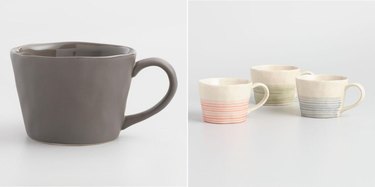 Not gonna lie, 50 percent of my cups are from me walking into a World Market with the intention of only window shopping, but walking out (mostly) guiltless with an adorable mug that didn't cost me an arm and a leg. So why should this trip be any different? I've also fallen victim to the ceramic stoneware trend, and can't get enough of the earthy, organic vibes of these mugs. You can easily find these in sets online, but in-store is where I like to get them individually so I can mix and match to my heart's content.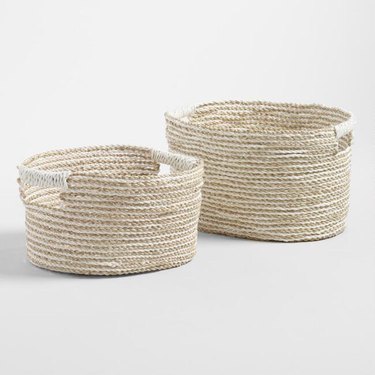 As I've reluctantly entered my late 20s (brb, sobbing), I've had the revelation that storage doesn't have to be ugly. It can, in fact, be quite the opposite! Long gone are the days of my ugly plastic rolling drawers, to be replaced by something that could actually double as decor — like this beautiful, handcrafted seagrass basket. It has subtle stripes and a beautiful woven texture that will make anything you put in it (blankets, towels, etc.) look that much fancier. Could this be a symbol of adulthood? Maybe.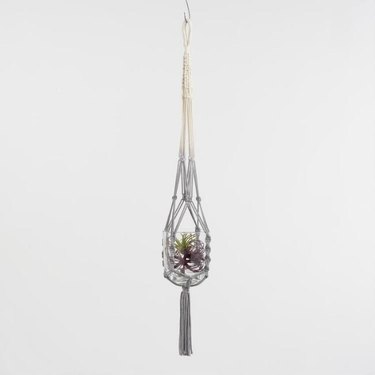 Is macrame back in a big way? Did it ever leave? Trendy or not, the moment I spotted this piece I knew it would be perfect hanging from the ceiling of my living room. I love how the gray ombre detail makes it a bit more unique than any other macrame piece and modernizes what is otherwise very boho. Plus, my cat is going to think it's one giant toy that I got just for him and will love me forever for it.
Lacey's Tally
Stoneware mugs, seagrass basket, ombre macrame plant hanger: $48.96