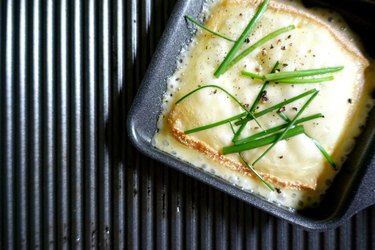 When Australian-born fashion designer Kym Ellery throws casual-chic weeknight dinner parties in her one-bedroom Paris apartment, she often makes raclette — and it's not surprising why. The DIY recipe — a cousin of fondue, in that it involves eating simple things bathed in melty, funky cheese — takes the simplest ingredients (cheese, potatoes, bread, pickles) and creates a festive yet casual, communal event. There are no set courses. You eat what you like, when you like, how you like.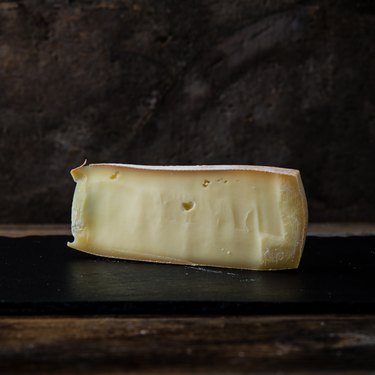 Raclette, for newbies, is many things to many people. It is the cheese itself, a semi-firm cow's milk cheese with an earthy, nutty flavor, traditionally from the Alps. It melts perfectly. It smells nutty and funky, in all the best ways. The name comes from the French word racler which means "to scrape" — which leads us to the second meaning of raclette: the iconic dish itself.
To eat raclette, cheese is melted and scraped onto a plate, typically over boiled potatoes, and served with bread and pickles, or cornichons. This is how the Swiss shepherds ate raclette when they invented it hundreds of years ago. And it's how chic dinner party guests in Paris and the world over enjoy it today.
Raclette also refers to the equipment one might buy to serve raclette — be it a specific tabletop set or grill, with custom raclette scrapers and individual melted cheese dishes called coupelles, or a professional-quality cheese stand and heating element, where a quarter or half-round of raclette (the cheese) can be melted at will, table-top.
Don't be. Raclette is far simpler than it sounds.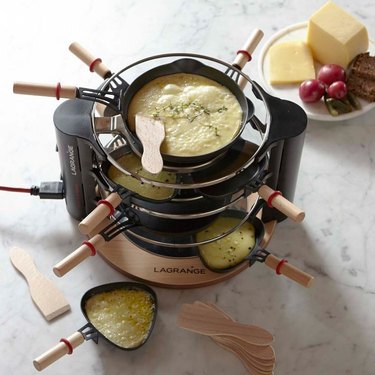 Second, figure out how you'd like to melt it. Swiss shepherds heated rocks near an open fire to melt the cheese — which is to say, you don't need to get fancy. You can go low-fi and use the broiler. Or if you have entertaining in mind, invest in a raclette set. It's the fondue pot of the 21st century — not required, but very of-the-moment.
Third, boil or roast some new potatoes. If you have a raclette with a grill, slice vegetables and meats to serve alongside.
Fourth, serve the potatoes, and whatever else you'd like, alongside the traditional cornichons, pickled onions, crusty bread.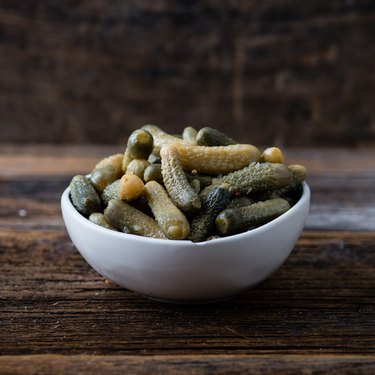 Fifth, scrape the cheese, dip, eat, repeat.
Oh, and do not forget the wine. Raclette is typically served with a dry white Swiss wine called Fendant. One might also serve a Pinot Gris, Sauvignon Blanc, Riesling, or Grüner Veltliner — or a lighter, crisp beer that can cut through the richness of all that delicious cheese.
Ready to raclette? (Wait, it's a verb, too?) There's a set for every mood.
Raclette for One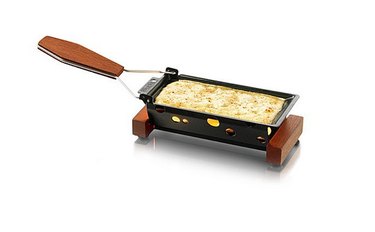 Powered by three tea lights, this is raclette at its simplest — melted cheese just for one (or maybe two, should you want to share). And it comes with its own little raclette scraper.
Raclette for Two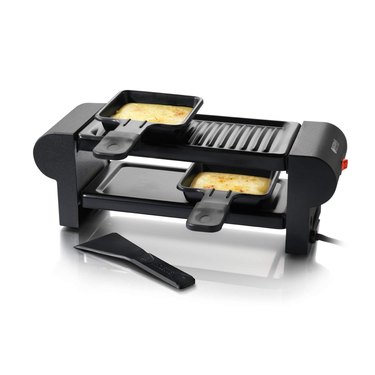 This tiny raclette set requires electricity, but comes with a tiny grill for your veggies, two coupelles, and two scrapers.
Raclette for a Group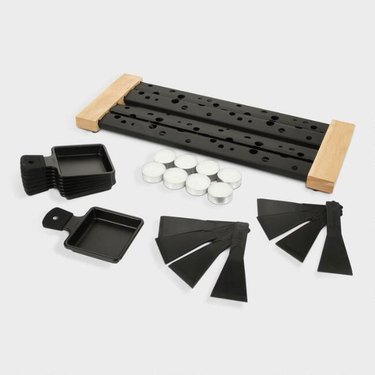 A low-fi approach to a dinner party, this large raclette set is also powered by tea lights, two per person.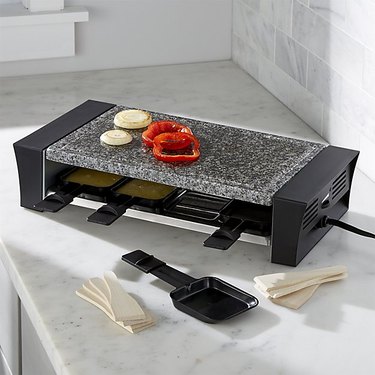 This more robust raclette grill utilizes a granite cooktop that brings to mind the way raclette itself was invented.
Should you and your guests prefer raclette in the round.
And for those who are seriously raclette-inclined...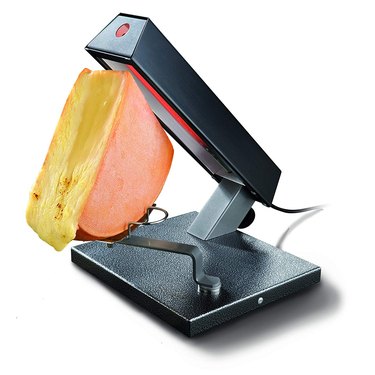 This quartz burner will melt raclette to order, and apparently adds a more toothsome finish to the melted cheese.