It's become our default to shop online, because let's face it: Crowds are terrible and these days, too many stores are sensory overloads. (Like, how many candles and throw pillows can you fit into one corner?) The problem with keeping everything digital, especially when it comes to furniture and home decor, is that it can leave you feeling seriously uninspired. These eight stores have found a way to make shopping an immersive experience — by crafting atmospheres that look and feel like humble abodes. Meaning, it's just as enjoyable to lounge in a gorgeous chair while also getting inspiring ideas for how to style it.
Consort Design
Whether you're in Los Angeles or New York, this chic interior design firm and home decor shop is a swanky space to call home — at least for a couple of leisurely hours (but, it might start to look weird if you overstay your welcome). Designed to look like a posh pad, Consort offers a treasure trove of inspo and modern home decor options including furniture, lighting, and decorative objects.
The Future Perfect
Visiting Casa Perfect, the Beverly Hills showroom of The Future Perfect, is more than just a design pilgrimage — it's a journey to the heart of rock and roll. Located in Elvis Presley's former home (yes, really), visitors get to experience contemporary design in a beautiful residential setting. Showcasing a range of products from Lindsey Adelman chandeliers to Jason Miller glazed stoneware, this home is bursting with creative inspiration.
Goop MRKT Amagansett
Located in the Hamptons (oh, you fancy!), Goop's sixth retail excursion in Amagansett exudes British seaside charm. Transforming one of the town's oldest buildings into a Gwyneth Paltrow-worthy escape took plenty of vintage goods and hanging herbs galore. The concept was to turn a century-old cottage into a European market, offering a range of lifestyle must-haves from clean skincare to casually chic home decor.
The Line
Have you ever gone into someone's home and thought to yourself, "Oh my God, I want everything in here"? That's pretty much the concept behind The Apartment by The Line, a boutique located in New York and Los Angeles that's literally a shoppable apartment. From a vintage Alvar Aalto armchair to a sheer lace Dolce & Gabbana skirt, you never know what amazing finds you'll discover when you pop by for a visit.
The Row
This is no Full House — it's anything but. Fashion mavens, Mary-Kate and Ashley Olsen opened the first store for their clothing brand The Row on Melrose Place, one of Los Angeles' trendiest streets. Ashley explained to the Los Angeles Times, "We started off by selling The Row in apartments in Paris, and we'd sleep there with the clothes. So it's always been about welcoming people into our home, even at a wholesale level."
Maison Sarah Lavoine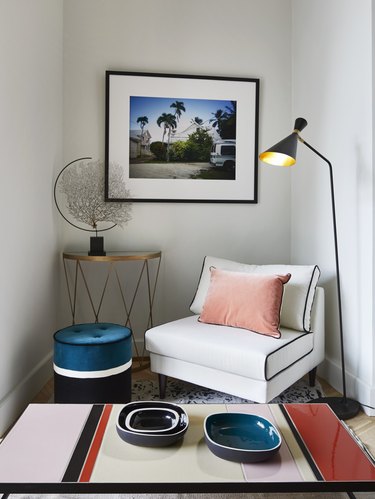 French designer Sarah Lavoine's industrial-style flagship might remind you of your chicest friend's lofty apartment — and that's just the way she intends it. Surrounded by exposed beams, red brick, and original countertops, you can peruse her products — ranging from table linens to sofas — in the bedroom, the dining room, or the kitchen of this charming Parisian "home," all with a coffee and pastry in hand.
Alex Eagle
This quirky London retail space from Alex Eagle is your ideal home: open and airy, inspiring and down-to-earth, and just eclectic enough. Discover new finds for your space, your closet, and your bathroom in this showroom that perfectly mimics your odd auntie's house of treasures.
---
Jamie is a freelance writer based in Denver, Colorado, who writes about real estate and interior design.
View Work