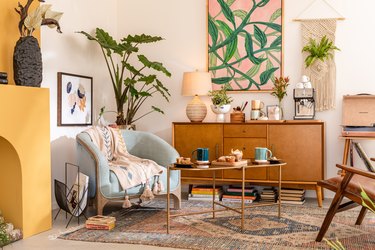 Being cooped up at home has its benefits and frustrations. On the one hand, we're more focused than ever on making our spaces beautiful and relaxing; on the other, we miss PEOPLE! And normal stuff! Like getting a cup of coffee at our favorite local spot. For those who sorely miss the neighborhood cafe, there's at least the next best thing: an at-home setup that brings the best vibes of the coffee shop to your living room. Check-out our cozy at-home coffee bar experience:
Create a dedicated coffee zone.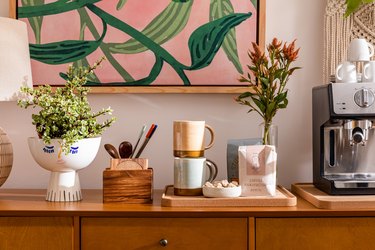 To really turn your morning cup of joe into a moment, try taking your coffee necessities into another section of the house — ideally a living space where you can get cozy (more on that in a moment). A normal coffee machine or French press will do, but now might be the time to finally upgrade to an espresso machine (they aren't as expensive as you might think!), so you can make fancier coffee drinks like lattes and cappuccinos. Keep all your accessories on hand — spoons, mugs, coasters, coffee cups, etc. — so you don't have to make multiple trips to the kitchen.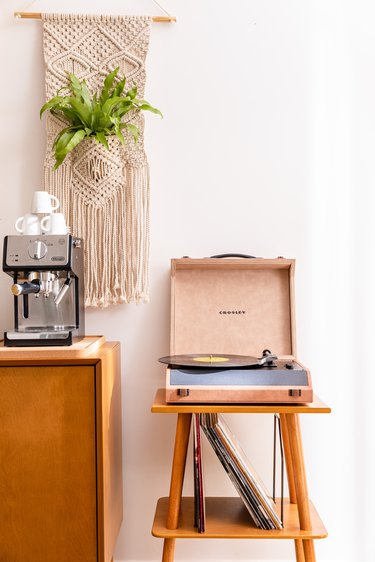 If you've got a speaker, set it up nearby and curate your own "at-home coffee shop" playlist. Better yet, go old-school with some vinyl. If you're new to collecting, all you need is a few records to get you started and a compact Crosley turntable, which is really quite affordable.
Set yourself up for me-time.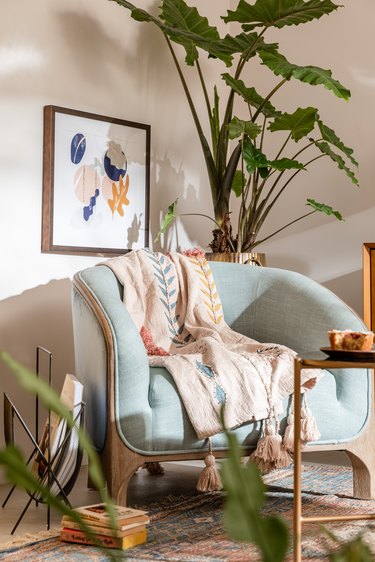 Key to recreating your local shop is to have a place to fully sit and enjoy your beverage. Find a corner of your room you can turn into a cozy nook, complete with a comfortable chair, a magazine rack, and a good stack of books.
We can't think of a more perfect situation for upping your coffee table game. To truly make your java enjoyable, set up a spread with your beverage of choice and a few pastries. And, if you've got room, add some beautiful coffee table books.
Looking for more ways to get cozy? Check out Walmart's cozy fall home shop here.