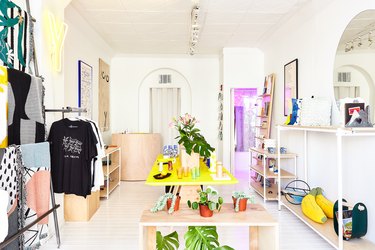 For Women's History Month, we are highlighting the people and projects you should know about all year long.
Since the rise of Glossier with its millennial pink stores curated like contemporary museums, there has been a distinct rise in retail spaces with Instagram-worthy interiors. While shopping malls are declining drastically and retail stores like Opening Ceremony are struggling to stay afloat — 2019 saw 8,600 stores closed according to ​Business Insider​ — there are a handful of female interior designers who are designing the next generation of spaces, from retail stores to co-working spaces and hotels.
In honor of Women's History Month, let's take a look at a few of these talented women, along with their stunning work.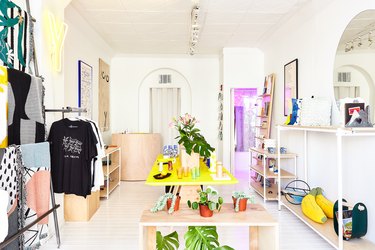 Shannon Maldonado is the owner of YOWIE, a Philadelphia-based, community-driven home and life shop founded in 2016. The storefront showcases work by artists and designers, operating as a quasi-art gallery meets store. Additionally, YOWIE sells its in-house line of candles, pillows, and T-shirts, while also hosting workshops for creatives and fellow small businesses. Maldonado has worked on design projects with partners such as The Philadelphia Museum of Art, CB2, Ubiq, ICA Philadelphia, The Wing, and Rec Philly. She also designed the interiors for Ethel's Club, a community space for people of color; The Deacon, a church being redesigned as a hotel; and Dye House, a forthcoming bed and breakfast in Providence, Rhode Island.
Kelly Wearstler is likely one of the most recognized American interior designers of our time. Starting her company in the 1990s, her projects span residential, hospitality, commercial, retail and lifestyle products. She considers her approach to interiors experimental and provocative, showcasing expressive narratives that center on a multidimensional, sensorial experience. Wearstler does this by juxtaposing concepts that are opposite in nature, such as vintage and contemporary elements or architectural and organic. The Compartes flagship in Los Angeles uses elements like patinaed copper and marble to create a space "inspired by the chocolate shops of the early 20th century," according to the designer's website.
Chiara de Rege founded her interior design firm, Chiara de Rege Interiors, back in 2010. Working on residential, commercial, and hospitality projects in multiple cities, de Rege also designs furniture using material and textile design in addition to art direction and branding projects. Taking inspiration from traditional architecture and modern, midcentury design, she designed the Carolina Herrera flagship store in New York (in collaboration with the brand's Creative Director Wes Gordon), featuring a curving staircase, and all of The Wing's co-working spaces in the United States.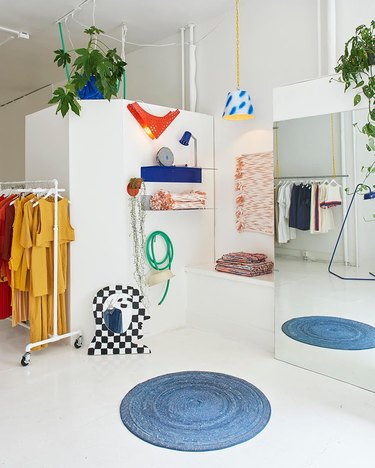 Elyse McMahon is the founder of design company and creative studio Like Minded Objects. Under the LMO name, McMahon creates conceptual furniture, lighting, objects, and interiors. Designing everything from restaurants and stores to offices and public spaces, McMahon has worked with clients such as Artsy, Eckaus Latta, KasuriNY, Kwambio, ZeZe Hotel, Lil Deb's Oasis, Pushcart Coffee, and more. Like Minded Objects also operates a store space in Hudson, New York with clothing brand Enkyu; the space has pops of color, patterns, and whimsical touches while feeling welcoming and fun.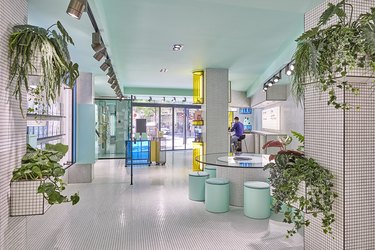 Ana Milena Hernández is the co-founder of Spanish agency Masquespacio, which takes on interior design — like a store for Cuadernos Rubio, pictured here — and marketing projects. Working with Christophe Penasse since 2010, the duo have collaborated on projects spanning from Norway to the U.S. to Germany to France. In 2019, ​The New York Times​' ​T Magazine​ named them the Interior Designers of The Year for its Spanish edition.
Starting her career at the New York studio Sofield, Christine Gachot would go on to make her mark at André Balazs Properties before striking out on her own. Along with husband John, Christine runs Gachot Studio. The business offers real estate development, art direction, and interior design services. The studio also designed the New York-based Glossier flagship, a millennial pink dream come true.
Featured in ​Architectural Digest​'s 2019 AD 100 list, Brigette Romanek is the founder of Romanek Design Studio. Romanek's interiors often have a classic look, with romantic hues, carefully placed patterns, and plush textures. Among her many projects, Romanek designed The Great's Los Angeles store, which mixes industrial elements with feminine flair.