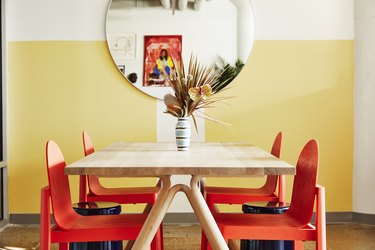 Earlier this month, Ethel's Club, a brand new space designed specifically for people of color, debuted in Brooklyn, New York. With an initial 150 members, it already has a waitlist of over 4,300 people, according to Vice. Distinguishing itself from other related spaces such as The Wing and WeWork, Ethel's Club is not meant to be only a coworking space. Instead, it is intended to bolster the wellbeing and social life of people of color.
Born out of feelings of frustration and anger, Ethel's Club was founded by Naj Austin. The locale is carving out necessary space for people of color in a city that's rapidly being gentrified. Accordingly, its mission of being warm, bright, and inviting carries through to all of its design details, which are courtesy of Austin — and Shannon Maldonado, the mastermind behind Philadelphia's famed home goods stores, Yowie.
"The club is named after Naj's grandmother so we started there with this idea of a familial place," Maldonado tells Hunker. With this in mind, the two opted for a color palette in which nothing would "feel too precious," instead choosing "earthy" and "lived-in" hues with dark, natural tones and pops of red.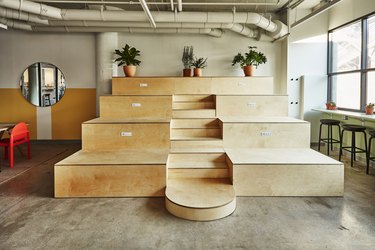 At the beginning of the project, Maldonado dug through architecture books at the library, looking for some type of reference point that would add visual interest to the entry way. "I kept coming back to a Nat Geo photo of a sphinx, and I was like, how can I integrate this iconic symbol into our space," she says. "So the bleachers are actually inspired by that, with the rounding of the bottom and how it juts out."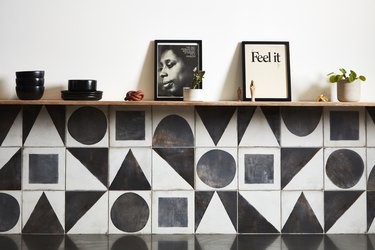 Maldonado says the space embodies what she calls "warm minimalism," or, in other words, it has just the right amount of stuff but isn't cold. Of course, it's cozy.
"I started to follow Yowie because I loved the aesthetic and playfulness of the brand," Austin tells Hunker. "I saw that [Maldonado] had led interior design at the Deacon Hotel and it was stunning."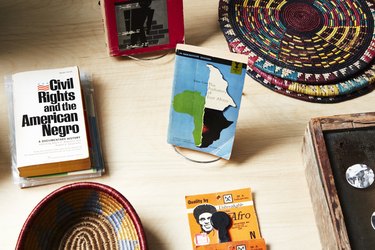 Throughout the design process, Austin and Maldonado wanted to call upon the idea of building on the legacy of past POC generations, making the space both inclusive and aspirational — something they feel isn't common for people of color to see in many spaces.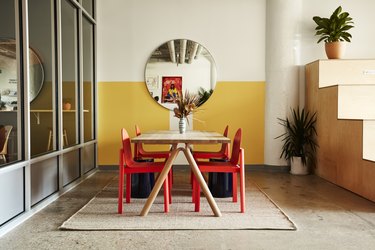 "This is more of a casual breakout table area," Maldonado says. "We thought it'd be fun to make chairs and stools, so it's not a formal meeting place." Maldonado also says the color red is an homage to her cultural identity, since the creative is half Puerto Rican.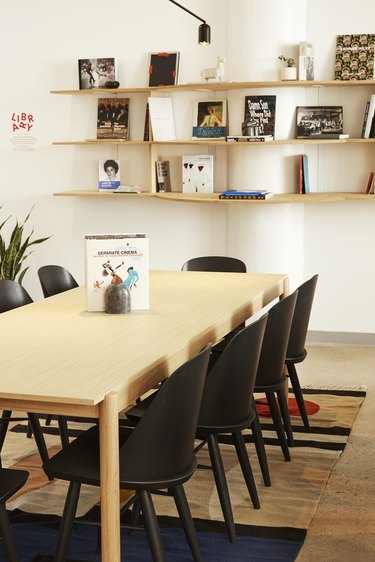 "From a very early age, I've always collected vintage interiors and art books, even before I could really afford to buy them," Maldonado says. "And I thought it would be really nice to make this beautiful reference library that has 120 books by different artists of color from different practices."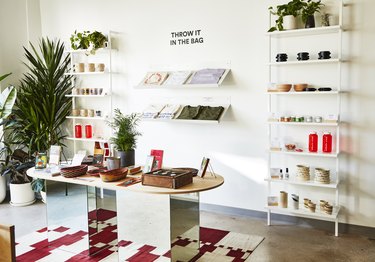 "When Naj and I first met, we talked about adding a boutique element to the space. I thought it was so smart that they were already thinking ahead about how their members could be a larger part of the space. It's a really cool, robust shop that's eclectic and unexpected," explains Maldonado. From ceramics to t-shirts, there are an array of items by Edas, Lindsay Arakawa, Golde, and more.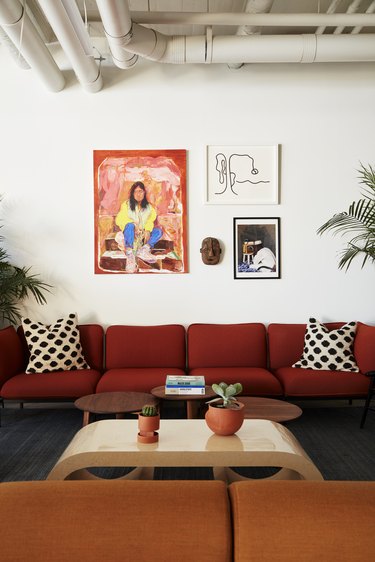 "We worked really closely with Stephanie Baptiste of Medium Tings to pick all of the artworks in the space. We have a really fun mix of classic art, like paintings, and then really fun, offbeat art." Artists include Idris Habib, Cindy Hsu Zell, Vanessa Granda, Amaka Paul, and many more.
"A huge part of our brand is shifting the narrative of what it means to be a person of color and gather," Austin says. "The design of the club plays into that a lot — it's warm and friendly and zoned out so that members can intimately connect with one another."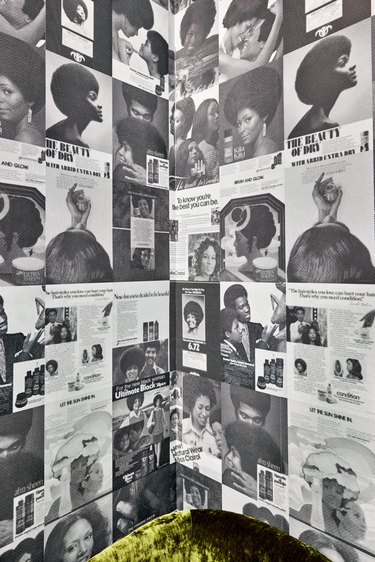 "When we started working on the space, we had a lot of conversations about racial identity and issues that are prominent in the community. And one of them was good hair in the Black community," says Maldonado.
"We bought old issues of Essence and Ebony on eBay and couldn't believe how much marketing there was for hair and beauty products. So we hand-selected 75 images and ended up making two different custom vinyl wallpapers. One is around the evolution of Black beauty and hair and the other is about the idea of Black joy."