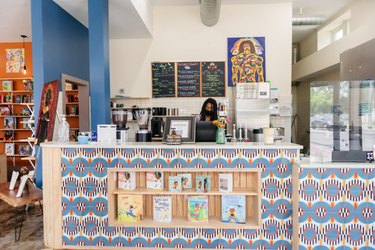 For Pride Month, we're highlighting some of the people and brands you should know about all year long.
Spending time at a coffee shop isn't just about your order — the environment makes an impact too. Comfortable seating, chill music, and chic decor can go a long way in making a space feel cozy. Welcoming spaces are even more important for the queer community. With recent anti-trans and anti-queer legislation, it's difficult for many queer folks to be their full self in the world at large. That means spaces where the queer community can thrive are especially important.
Pride Month is a good time to support queer-owned coffee shops and brands (though we encourage that all year long!). We spoke with queer mobile and brick-and-mortar coffee shop owners about the design elements they use to create a welcoming space for their community.
In North Carolina, a Black-owned, independent cafe hosts events celebrating the work of Black authors and stocks its shelves with the work of writers across genres and eras. Each element of the interior was carefully chosen to create an environment of belonging.
"The thing that defines Rofhiwa as a decidedly and radically Black queer space is that the space isn't static," Naledi Yaziyo, co-owner and curator of Rofhiwa Book Café, tells Hunker. "Movement is the element that animates our thinking and informs our design. It is important to us to create a space that is in constant motion — a chair over here today, which was over there last night; blankets appear as the weather changes; curtains to black out the space for an intimate party in which queer bodies might connect without shame or space between them."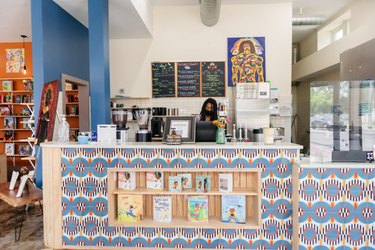 For Yaziyo, it's all about creating a space that feels responsive and welcoming "in a world that isn't always able to hold us in our complexity." Both Yaziyo and co-owner Boitumelo Makhubele were grieving their grandmothers when they first opened the space; they worked with Jenell Gilyard of Neon Gumbo Design Studio and Spoonflower to create a pattern based on their grandmothers' handwriting.
The design also pays homage to "the Black pioneers who moved north here in the great migration and the pioneering Black Southern Africans who found their way to Johannesburg to work in the mines," says Yaziyo, making the feature even more intentional.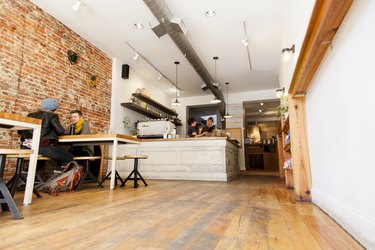 Since opening in 2013, Philadelphia-based Menagerie Coffee has focused on creating a comfortable and inviting space for coffee lovers.
"Our aesthetic leans a bit Nordic and continues to be inspired by the concept and activity of ‌hygge‌ or ‌hyggelig,"‌ April Nett, owner of Menagerie Coffee, tells Hunker. "We attempt to create thoughtful spaces that promote inclusivity for individuals and small groups alike, so even if you're in the shop taking time for yourself, you feel included within the larger context of the store and the general energy created from the community members around you."
The shop makes it a priority to use repurposed materials as well as plants that "revitalize the space." Menagerie Coffee has two locations, one of which utilizes Alaskan cedar wood "repurposed from retired water towers that frequent the tops of many city buildings." Merch from the shop is on display along with products from Elixr Coffee and Dogwood Coffee.
April also points out another important feature of the space: "Restrooms have been and will always be nonbinary," she says. "Nothing needs to change about the plumbing in order to create safe, accessible, and functional restrooms for every person!"
The name for Saffron Cowboy Coffee, a Los Angeles-based mobile coffee shop, comes from founder Hannah Said's background. Her Middle Eastern and white heritage (her mom is from Tennessee) inform the playful name, and Said wanted the coffee shop's brand to feel bright and colorful.
Growing up Muslim, Said remembers going to numerous coffee shops, soaking in what made the spaces special. Said also creates zines, which are often in stock at the mobile pop-ups.
"I doodle a lot," Said tells Hunker. "I make really funny, queer doodles. Whatever I create, I then write a story about it. That's the playfulness of Saffron Cowboy in general. It's really fun and super queer, super Middle Eastern, super Southern — all the things that make me myself, blended."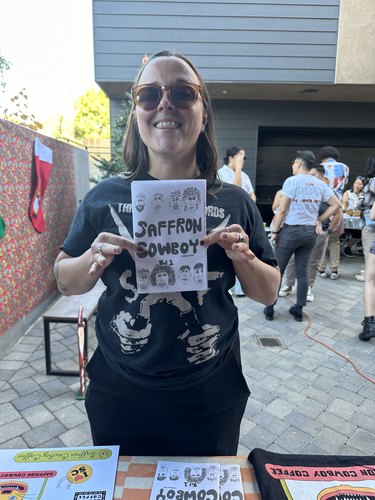 As a self-proclaimed '90s kid, Said wanted to design mugs that called back to her childhood and incorporated a classic diner look. The mugs feature the brand's signature cat but also a horseshoe framing an evil eye — nods to Middle Eastern and rodeo culture.
Besides the coffee, Said says the best part of Saffron Cowboy Coffee is seeing people feel energized by the pop-up, often chatting with each other in line.
"There's always going to be music, there's good coffee," Said explains. "I'm going to actually talk to people — not just serve them and say 'bye.'"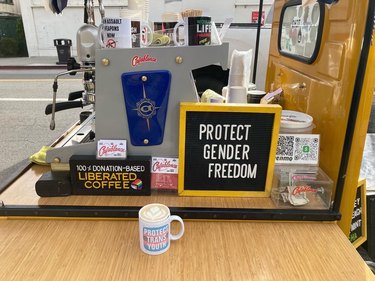 You might spot this bright yellow coffee cart around Southern California. Equipped with an espresso bar, tea options, and pastries, Cafablanca is the passion of owner Cameron Kude, who first opened the cart with Juan Fernandez. The quirky name takes inspiration from the film ‌Casablanca‌, specifically its "anti-fascist sentiment," as the coffee cart's website explains. The cart is donation-based, with nods to social justice issues.
Though it's not a brick-and-mortar space, the cart chooses mugs, message boards, and other design touches to show its "fervent support of the queer community," Kude tells Hunker.
Cafablanca also has TV credits under its belt already. You might have spotted it on ‌The L Word: Generation Q ‌as part of Alice's 100th show event. (It's the episode where she meets Taylor — in such an adorable first exchange, but that's a story for another time.)
Lately, the cart has displayed mugs with writing like "Protect Trans Youth" and "Ban Assault Weapons Now!" It's also easy to spot not only because of its bright color but because of the seating that Kude sets up for customers. "Even our bistro tables and chairs are spray painted in the trans and bi pride colors," they add.
"I mean, what's more queer than a brightly colored, three-wheel coffee cart rolling around LA?" Kude concludes.