Who: Ryan Harden and Rob Watson, co-owners of Camellia Coffee Roasters
Where: Downtown Sacramento, California
Style: Japanese-influenced minimalism
While a jolt of caffeine is necessary for most people to jump-start their days, very few consider it a ritual. Whether grabbing a quick cup on your way to work or downing a pre-brewed blend from your travel mug, buying coffee or tea has a reputation of being quick and transactional. After all, who has time to stop and smell the coffee beans?
But Camellia Coffee Roasters' well-appointed cafe in downtown Sacramento is steeping the fun back into coffee and tea, which makes you want to stop and stay awhile.
"We set out to start Camellia because we love the spirit and energy of making coffee and serving friends just for the fun of it, and wanted to create a space where we can do that every day," says Ryan Harden, founder and co-owner of the space.
Harden and co-owner Rob Watson grew up in Sacramento and after more than a decade working in the coffee community, they wanted to make their own mark on the industry. The duo ultimately settled on a small space in the WAL Public Market, a shared dining and retail space below the WAL Artists Lofts. But, while they found real estate gold along the city's emerging R Street, the area's design didn't align with the duo's vision.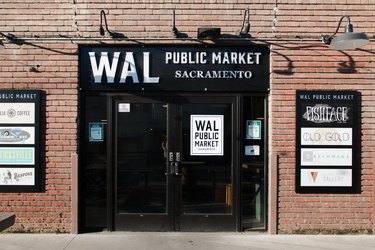 "As a repurposed warehouse, it's somewhat industrial and minimal," Harden says. "Camellia's design seeks to brighten and freshen up the market, taking inspiration from the namesake flower with light pinks, muted greens, bright whites, blonde wood, brass, and tropical plants."
Harden and Watson enlisted Sacramento-based design studio WOOL to take the reins on refreshing their space.
"I think for the 'look,' I was wanting something different that I hadn't seen in Sacramento," explains Emily Wilder, one half of WOOL. "Something a bit edgier, more minimal and modern. I wanted all the elements of the design to really create and complete the experience."
The inspiration for the space came to Wilder during a recent trip to Tokyo. "Camellia has a very fresh, Japanese vibe: full of light and very playful," she says.
With light wooden accents, pristine white walls, and luscious plants, Camellia deftly captures a minimal, young, and Japanese-inspired spirit. But the biggest — and most noteworthy — feature the place has to offer is its pink tiles, which are made by a small company in Japan. Wilder created a unique pop of color by tiling the coffee bar as well as a pew from an old church, which is one of Harden and Watson's favorite design moments.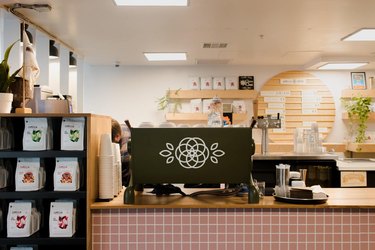 "We love the bar seating," Harden adds. "It allows us to hang with our friends and guests and interact more than just at the cash register."
As their own take on Sacramento's coffee scene, Harden and Watson wanted to create a destination that stood out, not blended in.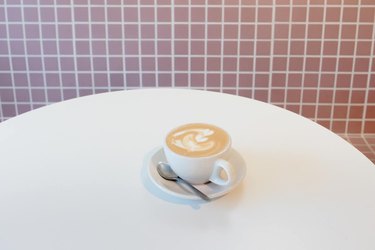 "We are seeking to change the style Sacramento coffee shops have settled into," Harden says. "We wanted to bring fresh eyes to coffee and service, and our space is a reflection of that." Light and bright Camellia offers a breath of fresh air to an otherwise industrial backdrop.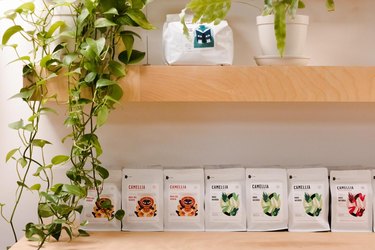 "I loved the challenge of transforming such a small space that required us to be very creative and scrappy," Wilder says. "The space is open to a whole market yet it evokes such an intimate and singular atmosphere."
---
Kelsey Mulvey is a freelance lifestyle writer and editor. Her work has been featured in Lonny, Apartment Therapy, and Wallpaper*, among others.