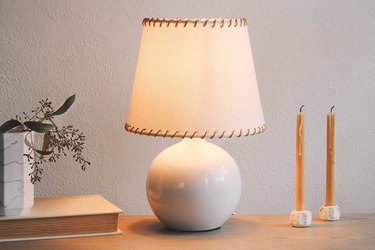 Used on lampshades for decades, parchment paper is not only beautiful in casting a translucent, diffused glow to any room, but it's also durable and one of the easiest materials to apply to a lampshade ring/frame (or an existing form with an already flame-resistant coating).
And animal lovers can rejoice! No longer made from calf, sheep, or goat skin, these days, modern parchment consists of cellulose fibers derived from fir trees, cotton, or flax. Find mottled parchment paper (as well as bleached mulberry, rice, marbleized, and other semitransparent decorative paper) online or at an art supply, stationery, or craft store. Whether you're covering a new frame, refurbishing an old yard-sale find, or going full do-it-yourself to fashion your lampshade from scratch, you'll be surprised by how easy it can be.
Things You'll Need
Heavy parchment paper (or other translucent decorative paper)

Pencil

Ruler

Scissors

Fire-retardant spray (optional)
How to Make a Lampshade With Parchment Paper
Step 1: Pick Out a Frame
Use an existing lampshade frame (old material removed) or a store-bought frame/ring/form. If you're new to the lampshade-making game, cone, cylinder, and round lamp shapes are infinitely easier to cover.
Step 2: Measure and Mark
Lay out a large sheet of parchment paper (wrong side up) on a flat surface. Starting at the bottom of the frame, hold a pencil along the edge as you roll the frame slowly. Bring the frame back to the starting point and repeat the tracing process for the top edge. With a ruler, measure out and add at least an extra 1/2 inch to the top and bottom and 1 inch at the seam to allow for overlap.
Step 3: Cut to Size
Cut the paper along the pencil lines. Wrap the paper around the frame to check that it fits snugly and smoothly. With a hot glue gun, double-sided tape, or other adhesive, at a frame rib, anchor the two short ends together to form a seam.
Step 4: Glue the Top and Bottom
Fold the paper over the top of the rim, gluing it to the inside edge of the frame in 2- to 3-inch increments. Once complete, repeat this step on the bottom edge.
Step 5: Spray for Safety (Optional)
In a well-ventilated area, spray the shade thoroughly with a fire-retardant product. Let the shade dry, and your parchment paper lampshade is ready to use.
Tip
To bring a retro or Southwestern vibe to your lampshade, add leather whipstitching (also known as thonging).
Warning
Besides using a fire-retardant spray, another way to limit parchment paper lampshade fire danger is to use LED or fluorescent light bulbs. They produce up to 90 percent less heat than incandescent or halogen bulbs.