Lamp shades deteriorate over time. The most problems are seams coming unglued or missing tape. Heat causes this over time. A lamp may sit in a window and receive daylight sun and then be exposed to the heat and light of the lamp bulb at night; less expensive or unlined shades are particularly vulnerable to these problems. A repair is easier than you think.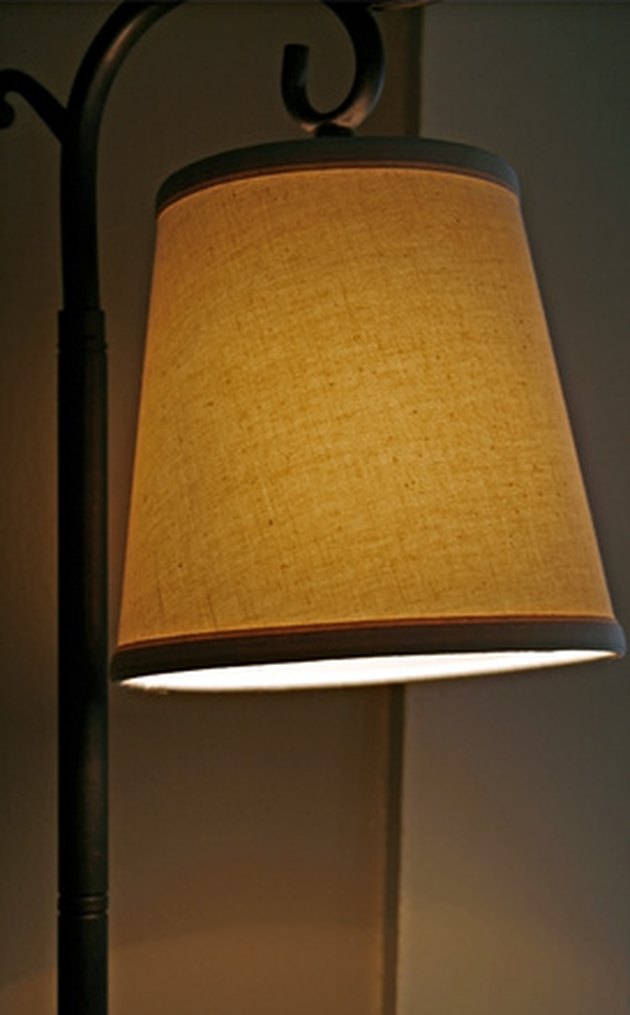 Step 1
Vacuum the lamp shade with a soft brush attachment to remove all dust and dirt. Examine the section where the lamp has come unglued. For side seams that run from the top to the bottom of the shade, open the seam up to the point where it sticks.
Step 2
Pour a small amount of white glue onto a paper plate. Moisten the paintbrush and brush 1/4 inch along the edge of the fabric or paper. Usually you can see the line of the former glue, so follow that line. Paint the underside of the other part of the shade and press these two sections together. Use a bull clamp at the rim wire closest to the repair to hold the two materials together until the glue dries (about six hours).
Step 3
Remove old tape around the top or bottom ring of a shade if it has become damaged, stained or is no longer in good shape. Use scissors to cut where the damage starts.
Step 4
Measure and cut contrasting color 1/2-inch bias ribbon to fit around the ring, using a measuring tape and scissors. Add 1/2 inch for overlap. Paint both sides of any remaining tape still on the lamp shade. Fit the bias tape over the tape on the lamp. Bias tape is folded in half so one half goes on each side of the existing tape. Use clothespins every inch or two to hold the tape in place while the glue dries.
Step 5
Measure grosgrain ribbon if you cannot find a bias tape in the color you want. Start your ribbon at the lamp shade seam and overlap the end by 1/4 inch. Use ample glue and clothespins. You don't want glue to ooze out, but you want it to stick well. The glue will dry clear.
Step 6
Repair a torn shade by cutting a small amount of onionskin paper the size and shape of the tear (the shade material must be intact). Paint the inside of the shade at the location of the tear and position the onionskin over the glue. Paint another coat of glue over the top of the onion skin. This will help the tear become less visible.