Chosen for its affordability and enjoyed for its comfort and versatility, the futon has earned a solid place in living rooms, studios, apartments and dorms across the country. However, the construction and flexible mattresses don't always survive well past the sell date, creating an uncomfortable lump in your living and sleeping space. Futons are fabulous for their durability and quick assembly. They are also easy to bring back to life when they begin to shift and settle with prolonged use.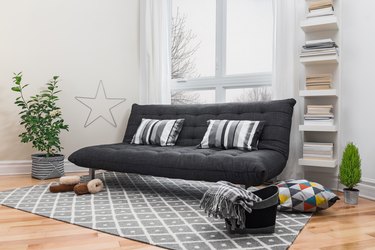 If your middle sags when you lay down on the futon or if a lump has gathered where your head should rest, there are a few quick fixes to get your futon back in tip top, thick and stable shape.
History of Futons
The first futon frame found its way to American households in 1982. After living abroad for some time, architect William Brouwer had enjoyed the minimalist style of Japanese furniture. Upon his return to the States, he sat down and designed a hinged double bed with a mattress that draped over the back, creating a puzzle-piece of furniture that could be a bed, thick cushioned sofa or low-lying lounger. The inexpensive, portable and sleek design flew off the shelves. About the same time, DIYers began exchanging ways to plump, fix or otherwise spruce-up their favorite furniture find.
Mattress Solutions
The mattress tends to be the first order of upset among futon lovers. If the mattress has a zipper, reach in and move the stuffing around as best you can. You can also buy cotton batting or layers of cushion at big box craft or fabric stores that sell sewing supplies. Once you have your stuffing positioned where you want and to the desired thickness, you can get out some aggression with this next step. Take a baseball bat or other heavy object and beat the stuffing into submission.
If the mattress simply isn't thick enough for your liking, add a foam topper available at sewing supply stores, home goods retailers or online. Buy a thick cover and improve the old mattress with new topper secured on top and you have a whole new bed for less than it would cost to buy a new mattress.
If your mattress is constantly sliding forward on its frame, you can secure it with strips of fabric. Sew a few strings to the back and bottom of the mattress. Make sure to double your stitches to give the fabric strips a good hold on the mattress. Tie the strips to the back and bottom of your futon and you should sit pretty and slip-free for some time.
Frame Fixes
If your frame is bent or the wood joints do a jig when you sit, you can pull apart the basic frame and make a repair. Understanding how a frame comes together will help you in your endeavor. If the frame tends to sag, attach metal arms between the slats to reinforce the frame. If it is bent, you can gently attempt to straighten the part, but the integrity of it has likely been compromised. It would be best to replace any parts that are bent or cracked. You'll need to weld metal bars back in place. No glue will hold the metal well once it has begun to bend.