Unless you've recently purchased a bed, you probably haven't been thinking a lot about box springs. But you most likely have one, or some other support feature, under your mattress. Box springs once had metal springs inside to absorb shock, but today's box springs are more often made from wood or metal and consist of a hard, sturdy box that sits under the mattress and supports it. While today's box springs don't usually contain actual springs, they still exist for the same purpose: to provide support to your mattress.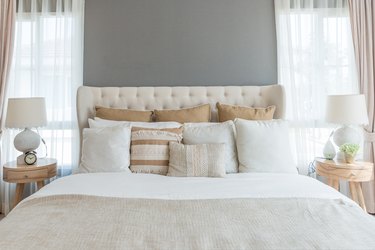 Foundations and Box Springs
Foundations have basically replaced box springs, and the names have become interchangeable. Instead of springs, foundations are typically made with steel modules that form a grid and have very little give compared to older box springs. Foundations provide very firm support for a mattress. Some foundations are composed of wood only, for mattresses that need a solid surface with no give at all.
Traditional box springs are more expensive to manufacture than today's foundations, which is one reason for the shift in the industry. They were also created before mattresses were made with inner springs. Today's no-flip, innerspring mattresses don't really need springs in their box springs and last longer on a firmer surface.
Do Beds Need a Box Spring or Foundation?
It depends. Mattresses require some type of support in order to remain in good condition and provide an adequate firmness for you back. You could put your mattress on the floor for support, but it wouldn't look very nice.
You could also set a box spring directly on the floor and place your mattress on top, but most often people choose to put a box spring on a metal bed frame in order to lift the sleeping area higher off the ground. This makes getting in and out of bed easier. It also creates a nice little storage space under the bed.
Platform Beds
This type of bed sits on a sturdy platform, either composed of a solid material or wooden slats used to support the mattress. Platform beds don't need box springs. The platform base acts as the support. Platforms beds are often modern and stylish in appearance. Some come with built-in drawers, which is a nice storage feature. The kind of platform beds made with wooden slats can have a cooling effect on the mattress, allowing air to flow underneath.
Buying Beds
A recent survey by the Better Sleep Council found a shift in consumer buying habits after many years of no change. For the first time since the BSC began gathering data in the 1990s, consumers report that mattresses should last less than 10 years. That means more bed sales and more box springs, foundations or platforms sold as well.