A good night's sleep is crucial to all aspects of a good life free of cranky and achy days. When your old mattress won't cut it, but is still relatively new and not broken down, the idea of adding a second mattress for comfort seems pretty basic. The inexpensive option can feel like a good one, but you need to consider a few concerns before you heft a mattress on top of your old one.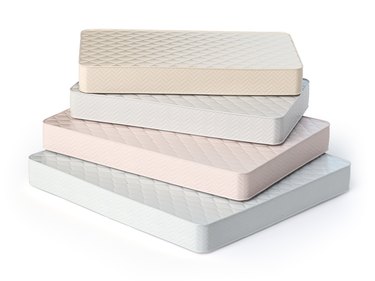 Advantages of a Second Mattress
If you have a box spring in place, you could get away with a second mattress on top of your existing one. A mattress usually needs a solid foundation, such as a box spring, so that its structure doesn't break down. Newer mattresses may simply need a solid metal frame to keep their solid shape and overall firm structure. A memory foam mattress on top of a regular mattress is a workable option. It can give you a more restful sleep and is supported by the classic bed frame and box string construction. The memory foam mattress is thinner than a traditional mattress and helps to eliminate motion transfer as well as gives an overall more comfortable night's rest.
Disadvantages of a Second Mattress
Placing a standard mattress on top of a standard mattress will double your chances of being uncomfortable. A mattress needs to breathe. Traditional mattresses have a core of coils that are surrounded by materials, such as cotton or wool. A latex mattress is made up of many bubbles to make it supportive and surrounded by cotton padding. When you place a new one over an old one, no matter the make, the old one loses ventilation, which can lead to allergy and mold issues.
A foam mattress top is your best bet if you want to add a layer of comfort to your existing mattress without gouging your wallet and wasting your time.
How to Know if You Should Buy New
If your bed frame screams and wobbles when you turn or you have to dig your elbows in the broken down mattress to get a good grip to flip over in the night, you may need a new mattress. Mattresses have changed significantly over the last 10 years. Consumer Reports recommends you replace your mattress after more than 30,000 hours of use or every seven years. A premium, well-built mattress runs around $1,000 on the market today and often can be delivered to your home.
The mattress business has become a seriously competitive market. The latest mattresses to hit the market have been designed after years of research and development by companies combing consumer insights and available sleep technology to create the best product.