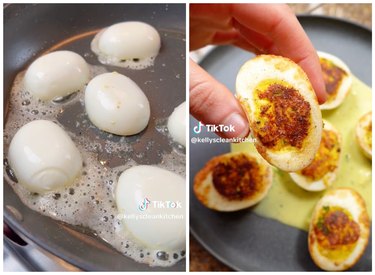 We love a good TikTok food hack, especially when it doesn't involve a lot of extra work but still transforms the ordinary into something special. That's certainly the case with this new tip for fried deviled eggs from Chef Kelly Scott.
The technique, known as eggs Jeannette by its creator, Chef Jacques Pépin, involves hard-boiling eggs and then removing the yolks and mixing them in a bowl with cream, herbs, and mustard.
After placing the yolks back into their shell, sauté them face down in a pan with a little bit of avocado oil. After around two to four minutes, they should be nice and crispy on the flat side and ready to be set aside. You could also just opt to eat them as is, but Scott recommends making the accompanying vinaigrette to take the dish to the next level.
Using some of the same yolk mixture from before, add olive oil, lemon, and salt and whisk the ingredients together until they form a creamy sauce. After that, simply spread some onto a plate and top it with the eggs. Voilà!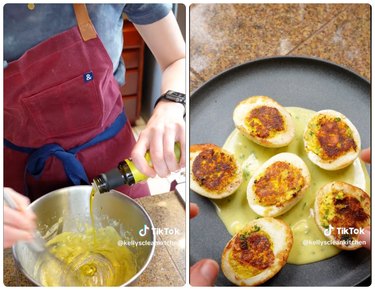 Scott calls these a sister to deviled eggs but way better, saying they would be a perfect appetizer or potluck item.
Down in the comments, some added their own twists on deviled egg preparations. "Make deviled eggs but instead of the normal way, mix the yolks with soy sauce, chili crisp, and sesame oil. It's insane," said one commenter, to which Scott cosigned.
For other great quick and easy egg hacks, we recommend a Mason jar omelet and a simple-to-make, no-peel egg salad. Looking to make a large batch of eggs Jeanette for a dinner party? Be sure to check our guide to making hard-boiled eggs in the oven!