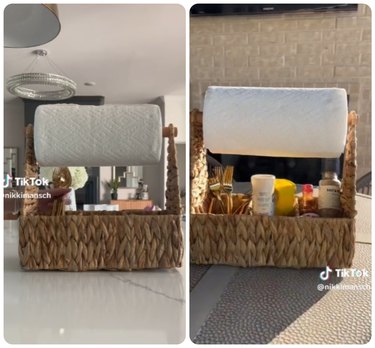 With summer hosting season around the corner, it's time to brush up on outdoor entertaining hacks. After all, when you've got burgers to grill and candles to light, every shortcut is a huge help. One such example is a basket specifically designed for entertaining, which we discovered via Den Garden.
Initially shared by Nikki Mansch on TikTok, the item is the Mud Pie Utensil Caddy on Amazon. It's a wicker basket caddy with a built-in paper towel holder, which is ‌super‌ useful.
What's more, the caddy itself has three compartments, which are perfect for storing picnic essentials like utensils and condiments.
With this basket on hand, you can ensure everything is easily accessible while staying organized. Not to mention, it beats making multiple trips from the kitchen to bring the basics outside.
On TikTok, folks were swooning over the product. "NEED! Perfect for summer," said one user. "Genius, I need this," commented another person.
If you're the DIY type, you might be able to create a similar piece for less. One method is to use a thrifted basket with a thick handle. Cut the handle along the top, then create a hole on each side of the remaining handles. This will allow you to insert a wooden dowel into the hole, which can be used to hold a roll of paper towels.
Alternatively, if you have wood working materials, you can try removing the handle from a wood caddy. Sand the cut edges until smooth, then attach strong magnets to the handle and sides. You can slip a roll of paper towels onto the handle and put it back in place.
Other outdoor entertaining hacks:
Last year, snackle boxes were trending — and they're sure to be just as popular this year. The idea involves filling a tackle box with grazing board ingredients, like crackers, pretzels, vegetables, and cheese. It's an awesome way to transport multiple items, whether you're attending a picnic or hanging out in your own backyard.