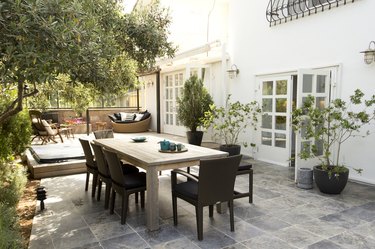 Summer is the season for hosting backyard barbecues and al fresco dinners, but if your easily overlooked grilling space needs some love, we're here to help.
We curated a full outdoor grilling space tied together with hammered steel accents and entertainment-friendly touches, all available on Walmart.com. It's official: Function and style don't have to be mutually exclusive.
First up: a grill (obviously). This sleek stainless steel number takes up a only few feet of space on your patio, but has enough grilling surface to cook 30 burgers at once—so feel free to invite over the whole neighborhood.
No grill setup is complete without a heavy-duty spatula, and the rosewood handle on this one adds a warm rustic touch.
For a place to store your grilling accoutrements, this outdoor tea cart is a major upgrade from a rickety folding table—and the neutral acacia wood adds a pop of brightness.
Outfit your tea cart with the essentials, like this woven seagrass caddy you can use to keep silverware and napkins within reach without having to make a hundred trips inside to the kitchen.
Need more serving essentials? Snag this picnic caddy to hold condiments, hand-wipes for sticky fingers, and more. Use the chalkboard label to identify what's inside (or just write an inside joke to your guests).
Step things up from plastic cooler with this drink pail, which keeps the galvanized metal motif going. Plus, with an attached bottle opener, you'll never have to go searching for one (or get creative with your beverage-opening methods).
Since grilling and hosting go hand-in-hand, string up some twinkly lights around your space to create that outdoor-bistro atmosphere.
Once the food is ready to be served, transport it in this weathered steel number, which has handy rims to prevent spilling (oh, and it's dishwasher-safe).
After dinner, light up your portable fire pit and break out the s'mores, or just sit back in the plush chairs and enjoy the fire-lit vibes. The best part? A lid for the fire bowl allows it to double as a dinner table for more relaxed evenings, or a space-saving hack if you're limited on room.