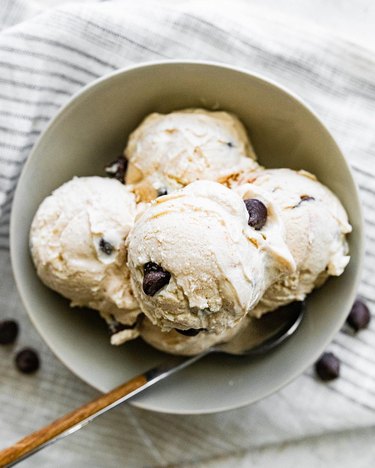 These days, it seems like everything can be turned into ice cream. Avocado, banana, tofu ... you name it. So, when we first heard about cottage cheese ice cream, we had mixed feelings — but it actually makes a lot of sense.
The dessert, which is currently trending on social media, is made of cottage cheese blended with sweetener and flavoring ingredients (think: berries, peanut butter, or cocoa powder). The mixture is then frozen for two to four hours, then scooped and enjoyed just like ice cream.
The finished product will look like traditional ice cream, but that's not why it's so popular. The cottage cheese gives the dessert a cheesecake flavor, which tastes divine with myriad ingredients. Cottage cheese is also a high-protein food, making the ice cream a protein-rich snack.
Some people are even blending cottage cheese on its own, then adding sweetener and freezing it as is. Apparently, this super simple take is also delicious!
If you decide to try this viral recipe, avoid freezing the cottage cheese ice cream for too long. Otherwise, the concoction will become very hard, and you'll likely have to thaw it out before eating.
As one user on TikTok noted: "It's tasty! The key is [to freeze] for a few hours, because I left mine overnight and it's solid ... but [it] would be a good popsicle I think."
If you want to give cottage cheese ice cream a whirl, check out this easy tutorial by TikTok user Lainiecooks. Here, she makes strawberry cheesecake cottage cheese ice cream, but you can easily switch up the ingredients.
Cottage cheese ice cream flavor ideas:
Blend your cottage cheese with the following ingredients to create different flavors:
Cocoa powder
Espresso or cold brew
Spices like cinnamon or nutmeg
Pumpkin puree
Fresh fruit like blueberries, mangoes, or peaches
Fruit jam
Nut butter, like almond or peanut butter
Flavoring extracts like vanilla, coconut, or lemon extract
Plus, after blending, you can mix in chocolate chips or nuts for extra goodness.
Summer is about to get so much tastier.