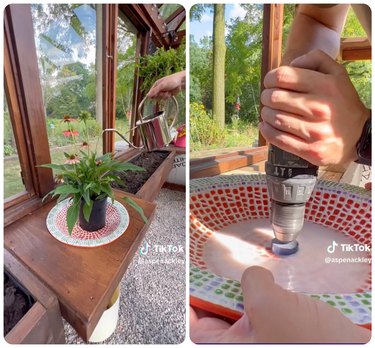 Plants need water, but there's such a thing as too much. That's where drainage comes into play — pots with drainage holes allow excess water to flow out and away from the plant once it's had enough. Most plant pots come with pre-drilled drainage holes for this exact purpose (though you can make your own drainage holes if yours doesn't).
While drainage is excellent for plants, it makes watering them pretty messy. After a good watering, you'll find yourself face to face with puddles of dirty water that may or may not leave unsightly brown stains behind.
To keep the process as mess-free as possible, watering plants outside is ideal. Instead of purchasing an outdoor sink, which can get expensive, Sabrina and Andrew Pougnet found a clever workaround — a DIY 'plant toilet.'
The DIYers thrifted a decorative bowl, drilled a hole in the bottom for drainage, and attached it to a simple wooden frame that they built in their greenhouse.
Now, they can set a bucket underneath and water their potted plants without worrying about a mess. We're definitely putting this project on our spring to-do list.