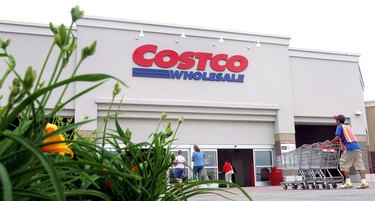 Can't wait for the flowers to bloom this spring? Head to Costco now to add some greenery to your home as we wait for the warmer temperatures to arrive. According to @costcohotfinds on Instagram, the retailer is now selling a two-pack of tropical plants for just $24.99 — an extraordinary deal for beautiful greenery.
The first plant is a pachira, better known as a money tree, and the second is a ponytail palm, both housed in cute black and gold ceramic planters.
The two are equally low-maintenance plants, so long as they get the right amount of light. Money trees need bright to medium indirect light, whereas the ponytail palms need bright indirect light. (Indirect light means that there is some sort of buffer or filter between your plant and the sun, such a sheer curtain, another plant, or a piece of furniture.) As for nourishing, water them once the top inch of soil is dry.
The Instagram video also points out that bonsai trees are also for sale — at a low price of $22.99.
"That's an amazing price. Always love Costco," commented one Instagrammer. "But my wife says I'm not allowed anymore plants," wrote another.
Some Instagram commenters have pointed out that they haven't seen the plants at their local Costcos, so they may not be everywhere — or they've already sold out at some stores.
So hurry to your nearest Costco to grab your plants before they're gone. (And maybe call ahead to see if they have them in stock.)