Gathering with loved ones never goes out of season, but with spring finally here and summer just around the corner, the warm weather may have you daydreaming about dining al fresco, picnicking with friends, or just spending more time with family. In this same spirit of coming together, IKEA will soon launch a new collection that is designed to inspire easy gatherings, all based in Latin American culture and traditions.
Ömsesidig (which means "mutual" in Swedish) is a 30-piece collection that includes colorful glassware, tableware, textiles, and decorations that are meant to be used for fun and easy gatherings centered around food and music. The collection brings together nine Latin American designers, based in Mexico, Chile, and Colombia, who collaborated with IKEA's in-house designers to create home furnishings that bring the vibrancy of different Latin American traditions and culture to each piece.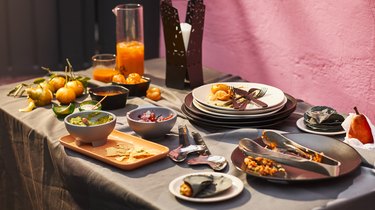 Latine culture is far from being a monolith, and each designer brings something unique to each part of the collection. Product designer Abel Cárcamo Segovia's curved kitchen utensils, for example, are inspired by the cueca: the national dance of Chile. The cool, dark colors used in fashion designer Augustín Nicolás Rivero's tablecloth are inspired by the Andes mountains, while artists Trini Guzmán's and Diana Ordóñez's textiles and decorations are inspired by carnival culture — bold, vibrant, and playful.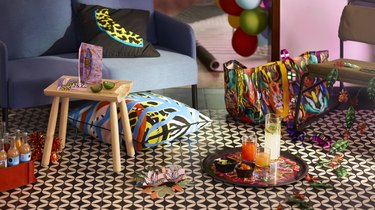 This collection has everything you need for a fun, easygoing party. All you need are loved ones, great food, and a good playlist. The line even includes two colorful panels for IKEA's Symfonisk, a picture frame that doubles as a Wi-Fi speaker.
The Ömsesidig collection is set to arrive at IKEA stores in April with prices ranging from $3.99 to $49.99. We can't wait to see what these artists have cooked up.