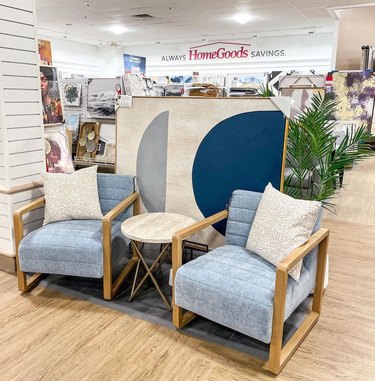 When it comes to affordable yet trendy home decor, HomeGoods is the place to be. The retailer, after all, is a gold mine for budget-friendly furniture, kitchen supplies, and lighting, just to name a few items. This makes it a great source for any project, whether you're renovating a room or thinking about trying a new trend.
The only catch? The inventory differs greatly among HomeGoods locations, so shopping at the retailer can be unpredictable. And while this is part of the fun, it can also be overwhelming. To help you out, we've gathered some of our favorite HomeGoods shopping hacks.
1. Download the HomeGoods app.
Since the retailer's inventory is always changing, it can be hard to know what's in stock. However, you can get an idea of what's available by downloading the HomeGoods app. It has a section called "The Goods" that features the newest arrivals at your store.
2. If you see something you like, buy it.
Shopping at HomeGoods is a bit like shopping at a thrift store. Each location has a different selection, and often, the retailer finds its stock randomly. (For example, HomeGoods might purchase extra products from a designer who overproduced a collection.)
Thus, there's no telling when (or if) a certain product will be restocked. Play it safe and scoop it up; you can always return it if you change your mind. On that note ...
3. Hold on to your receipts.
If you want to return something and don't have your receipt, you'll be refunded the current price. However, compared to most other stores, HomeGoods marks down its products at a quicker rate. This means you'll likely be refunded less money.
That said, if you're on the fence about an item you just bought, be sure to hold on to your receipt, and if you decide to take it back, do so within 30 days.
To keep up with the latest drops at HomeGoods, follow the hashtags #HGFinders and #HomeGoodsFinds on Instagram. It's an easy way to see what might be available at your local store.
5. Ask for a discount on damaged items.
If a product you're loving has a scrape or dent, ask the cashier or manager for a discount (nicely!). Many shoppers note that like other retailers, HomeGoods will offer a 10% discount on damaged items. Every penny counts!
Although this might not be practical for everyone's schedule, visiting the store several times a week is key for scoring the best finds. That's because the store receives shipments every few days, so new items are always hitting the floor.
7. Check the back of the shelves.
Due to the nature of HomeGoods, shelves tend to be cluttered and overfilled. Don't be afraid to sift through the shelves and peek behind products. You never know what gems you'll find.