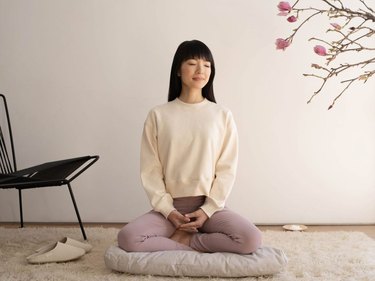 Each new year, many of us reflect on what we can change about our routines in our daily life — like ways to tidy your home to make it feel more productive and joyful. Perhaps, you'll even think back to the teachings of Marie Kondo, whose books and two subsequent Netflix series inspired millions to clean up their act. Well, she's back with some new advice: declutter your mind.
"Tidying up means dealing with all the 'things' in your life," writes Kondo in the book. "So, what do you really want to put in order?"
As first reported by ‌The Washington Post‌, Kondo says her life underwent a drastic change after she had her third child in 2021 and outward organization has taken a back seat to more important things. "My home is messy, but the way I am spending my time is the right way for me at this stage of my life," Kondo told attendees at a recent webinar.
"Up until now, I was a professional tidier, so I did my best to keep my home tidy at all times … I have kind of given up on that (in a good way for me,)" Kondo continued. "Now I realize what is important to me is enjoying spending time with my children at home."
Well, there you have it — not even the most expert organizer stays orderly all the time. And sometimes, that's the best way to be.