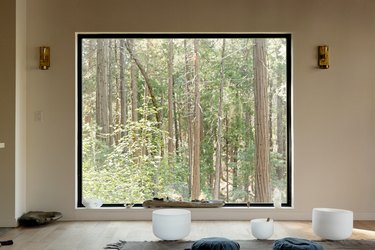 In the beloved 1980s movie ‌Ferris Bueller's Day Off,‌ Ferris concludes his misadventures with a cheeky grin at the camera and states, "Life moves pretty fast. If you don't stop and look around once in a while, you could miss it." This is still the case in 2023 (perhaps even more so when you consider current world events), but based on recent search data, it seems as though many aim to have a slower, more deliberate lifestyle that's all about moving through the world better — not faster.
This news comes courtesy of the lifestyle trend experts over at Pinterest, who have analyzed user search data to identify that 2023 will be all about embracing the slow life. Searches for "slow life" are up three times, while "slow morning aesthetic" is up by 60%, and "how to relax your mind" has increased by 50%.
To help their users follow through and execute on these aspirations, Pinterest is launching a series of live guided manifestation-focused shows on January 23 via Pinterest TV to help users discover and learn new tools around cultivating self worth, manifesting affirmations, living intentionally, and more. Personal development coach and Pinterest creator ambassador Isabelle Dias Merkel will contribute to the series, guiding viewers in strategies around using Pinterest for manifesting goals and developing healthy ways to slow down in 2023.
"The last years brought an intense awakening regarding mental health. We learned that we love action, but that a slower pace has benefits. Some of us are on a quest to find out if a bridge between these two worlds is even possible," says Dias Merkel in a press release. "The first and most important way to lean into the 'slow life' is to know it's okay to take your time as you try new practices and understand what works for you or not."
Here's hoping Ferris tunes in!