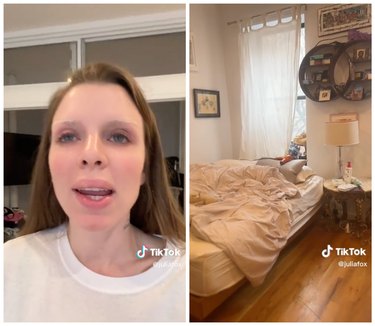 Celebrities, they're just like us. Julia Fox, Italian-American actress, model, and TikToker who believes in "maximum transparency," just showed off her tiny two-bedroom apartment in New York City in a video that now has over 6.8 million views. The star lives in the space with her adorable 2-year-old son, Valentino. No matter what your personal opinion is on Fox, her non-aesthetic home will definitely make NYC dwellers feel seen.
The video starts with Fox revealing her modest living room-turned-bedroom — something that is fairly common for those living in small city apartments. The actress explains that she did this so she could turn the actual bedroom into a playroom for Valentino.
A long hallway connects the living room space to a bathroom, a small kitchen that also serves as a storage room, and Valentino's room. Fox shares that she put the most effort into her son's area so he could have the best space in the apartment.
The star ends the clip by stating that she doesn't enjoy "excessive displays of wealth," which some may find hypocritical due to Fox's fame and lifestyle. Regardless of her status, she does mention that she does have a mouse problem — certainly a relatable issue. (Mice and/or roaches are a requirement for NYC living.) Fox jokes that the mouse "problem" may even be a blessing because, at night, it picks up the crumbs that Valentino leaves all over the floor.
Commenters were praising the star for her evident transparency. While there is no denying Fox's fortune, there's also no denying her humble home, which many of us can appreciate.