Lunar New Year is upon us, and as of January 22, 2023, we will be entering the Year of the Rabbit. While the holiday is also referred to as Chinese New Year, the restart of the lunar calendar is celebrated all across Asia, including the neighboring Vietnam. In order to commemorate the new beginning, Copper Cow Coffee will debut a limited-edition flavor: Milk Tea Coffee Latte.
The brand, founded by Debbie Wei Mullin, was created in order to share Vietnamese culture with the world. This Lunar New Year concoction combines two of Vietnam's most popular beverages: coffee and Ceylon tea.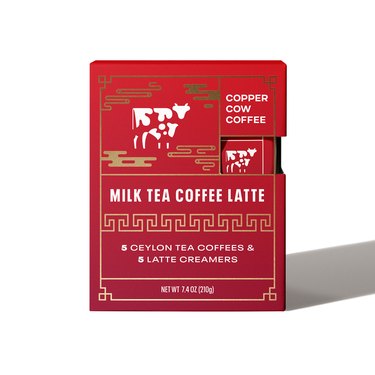 "When I was 18 years old, I was addicted to boba milk tea," Mullin tells Hunker. "I had one every day when I spent the summer in Taiwan before I started college. This is nostalgic for my time in Asia as well as the perfect balance of milk and tea … but for our coffee."
In honor of the brand's mission of sustainability and authenticity, all the ingredients are sourced directly from organic farms in Vietnam. Copper Cow Coffee pays each farmer twice the market rate for their work sourcing the elements.
If your mouth is already watering, you can grab the limited-edition latte from the Copper Cow Coffee website and you'll have it steaming in your morning coffee mug in no time. Happy New Year!