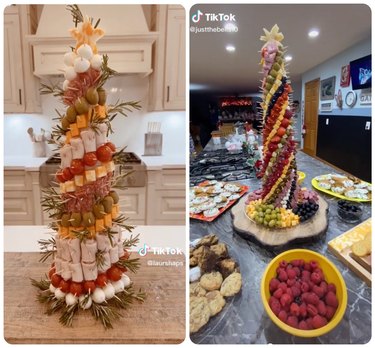 Ready to level up your festive season charcuterie board? And we mean way, way up — say, a few feet in height.
That's right. Forget flat charcuterie boards and go for this winter's biggest board trend: the charcuterie Christmas tree. In years past, a charcuterie Christmas tree comprised ingredients that were laid out in the shape of a tree on a flat board, but this year, party hosts are going vertical.
Users all across TikTok have been showing off their statuesque displays of meats and cheeses, and we have to say, they're definitely showstoppers.
TikTok user Lauryn Emily (@laurshaps) gave a little sneak peek into their preparation process through a TikTok video that has more than 900,000 likes at the time of writing.
It's really simple — all you have to do is buy a giant styrofoam cone and some toothpicks. Then, stick in your charcuterie board ingredients as you see fit!
Most users seem to go with a spiral trend — which is quite pleasing to the eye — but the freedom is all yours to choose whatever display style you'd like (not to mention, whatever ingredients you like). Plus, we do love the little design detail of a cheese star on top.
Needless to say, if you show up to a party with a charcuterie Christmas tree in tow, it's sure to be the highlight of the snack table.